First Alert Weather: Several days of lovely weather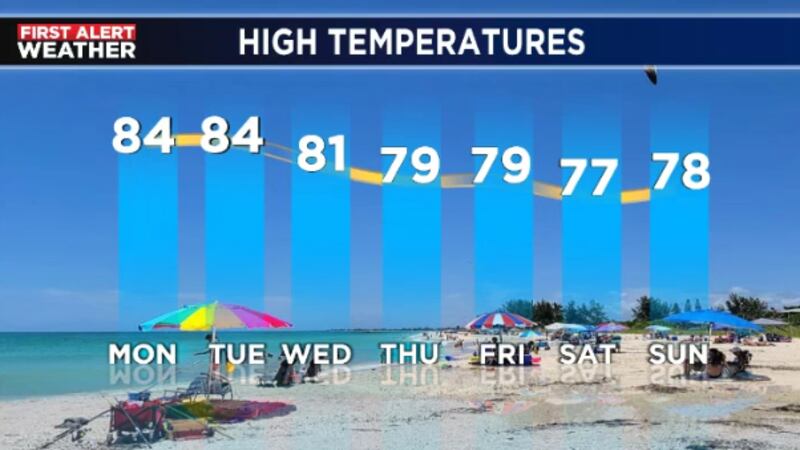 Published: Nov. 20, 2023 at 2:55 AM EST
SARASOTA, Fla. (WWSB) - The forecast for the next few days is a slam dunk. Temperatures will run four or five degrees above average with highs in the low-to-mid-80s.
Sunny skies today will cloud up a bit over the next few days but remain mostly sunny tomorrow. Don't look for any rain today or tomorrow but patchy morning fog may start each day just before sunrise. The fog will burn off quickly after the sun rises.
The changes begin on Wednesday as a cold front passes by with a 20% rain chance. The high on Wednesday will be held down by the increasing cloud cover.
The front should clear the area by Wednesday night and Thanksgiving looks like a bit of a cloudy or partly cloudy day, as the front stalls to well to the south. However, the rain should hold off on Thursday. The uncertainty comes in with how much cold air will move in behind the front. Some models have highs in the low 70s, while another suite of excellent models has a high 10 degrees warmer than that. Splitting the difference and favoring the warmer scenario, we will put the high at 79 degrees.
With the typical El Nino pattern continuing for Black Friday and the weekend, the southern jet stream stays positioned over Florida with a disturbance moving across the state. This will bring yet another chance for showers on Friday with unsettled weather continuing into Sunday.
The best chance for rain will be the second half of Friday with a drier weekend. However, clouds will linger, and days could be mostly cloudy on Saturday and Sunday.
Copyright 2023 WWSB. All rights reserved.