Pleasant Boating Next Couple of Days
Cold Front Arrives Mid Week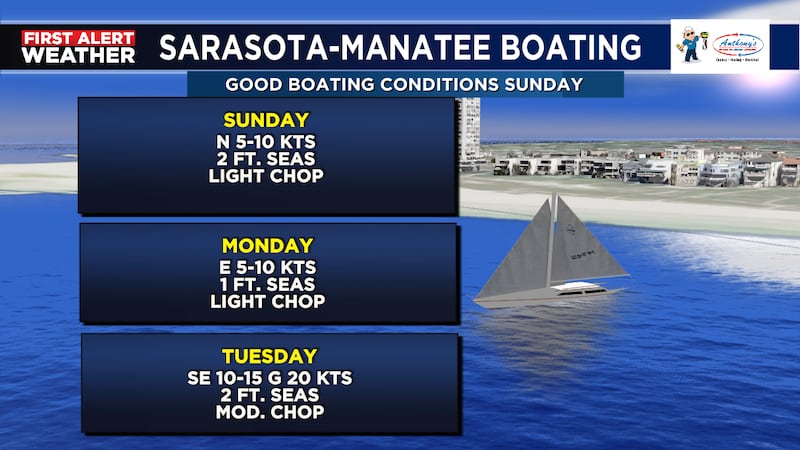 Published: Nov. 19, 2023 at 12:04 AM EST
SARASOTA, Fla. (WWSB) - Boating conditions are favorable to close out the weekend. Clear and sunny skies are in the forecast with offshore winds out of the north between five and ten knots. Seas will be less than two feet with a light chop. Beachgoers will have a high ultra violet index with plenty of sunshine. Meanwhile, the Gulf water temperature near the coastline is a refreshingly cool 73 degrees.
Sunday and Monday will be sunny and pleasant with highs in the low 80s and lows in the cool 60s. Dewpoints will drop and humidity will lessen with very little moisture in the atmosphere. Winds will begin to pick up Tuesday as a cold front makes its way to the Suncoast on Wednesday. Rain chances are moderate to small as the front will lose much of its energy prior to arrival. Travelers should check with their airports in case of cancelations or delays due to the front, and monitor road conditions this week. Thanksgiving day through next weekend will cool down behind the front, with highs in the 70s. A couple days could experience lows dipping to the 50s at dawn.
Copyright 2023 WWSB. All rights reserved.