A slight cool down for Thanksgiving
Vince could still form over the weekend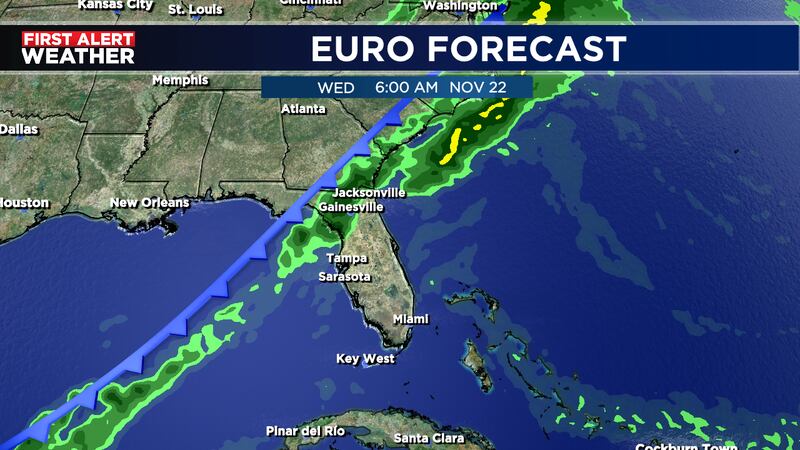 Published: Nov. 17, 2023 at 10:48 PM EST
SARASOTA, Fla. (WWSB) - This week has been very cloudy but that is coming to an end over the weekend as high pressure moves in. We will see mostly sunny skies with highs in mid to upper 70s near the coast and low 80s well inland. Winds will be out of the north at 10-15 mph.
Sunday should be really nice with mostly sunny skies with temperatures in the low to mid 60s to start the day and then by midday temperatures will warm into the low 80s. Winds will be out of the NNE at 5-10 mph.
Monday look for mostly sunny skies with highs in the low 80s once again with mild conditions.
Tuesday those winds turn more toward the east and southeast at10-15 mph out ahead of a cold front. We will see partly cloudy skies with warm temperatures rising into the mid 80s.
Wednesday a cold front will move through bringing an increase in cloudiness and a 40% chance for a few showers it the passage of this front. It will be breezy out ahead of this front and behind it on Wednesday.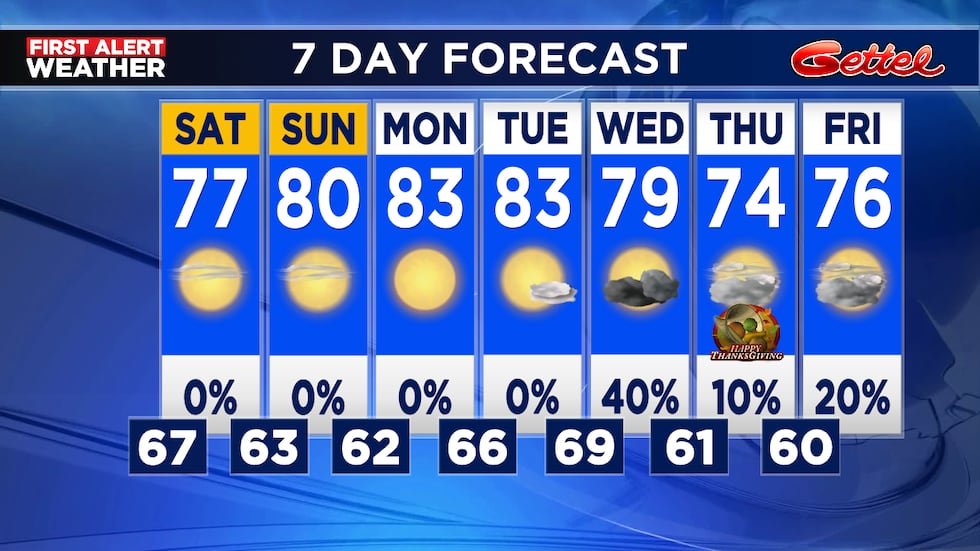 Thanksgiving looks to be a bit cooler with lows in the upper 50s to low 60s and highs in the low to mid 70s.
A tropical low is expected to bring heavy rain and life threatening mudslides to east Cuba and Haiti on Saturday. This system could become thee 20th named storm of the season as it moves to the NE at 10-15 mph. It will eventually move into the SE Bahamas on Sunday. If it were to develop into a tropical storm its name would be Vince. It will stay well away from Florida.
Copyright 2023 WWSB. All rights reserved.