Skies clear for the weekend, but a Thanksgiving cold front is on the way!
Published: Nov. 18, 2023 at 5:45 AM EST
|
Updated: Nov. 18, 2023 at 7:53 AM EST
SARASOTA, Fla. (WWSB) - Skies are clearing out after a week of heavy rain in parts of Florida, but disappointing rain on the Suncoast. From Orlando to Daytona 5″ to 8″ of rain fell. In the south, from Miami to Ft. Lauderdale 10″ to 15″ rains were common. For the year Ft. Lauderdale has received 108.91″, which is a record. The previous record there was 102.56″ in 1947. The Suncoast is the opposite in the rain gauge. Total rain last week came in at 0.37″ at SRQ, 0.86″ at Lakewood Ranch, and only a few spots such as Palmetto (1.21″), Venice (1.13″), and North Port (1.10″) over an inch.
We have a few days of quiet weather before our next cold front moves into the Suncoast right before Thanksgiving. We warm up through Tuesday ahead of the front, then cool down with lower humidity for Thanksgiving Day. There is very little moisture with this front, so not much for rain other than the chance of a few small showers Wednesday night.
In the Tropics, what's left of Potential Cyclone #22 no longer has any potential to become a named tropical storm. It will produce heavy rain and flooding in parts of Cuba and Haiti. But it is not expected to reach tropical storm strength. There are no other tropical disturbances to track as we head into the last 12 days of Hurricane Season.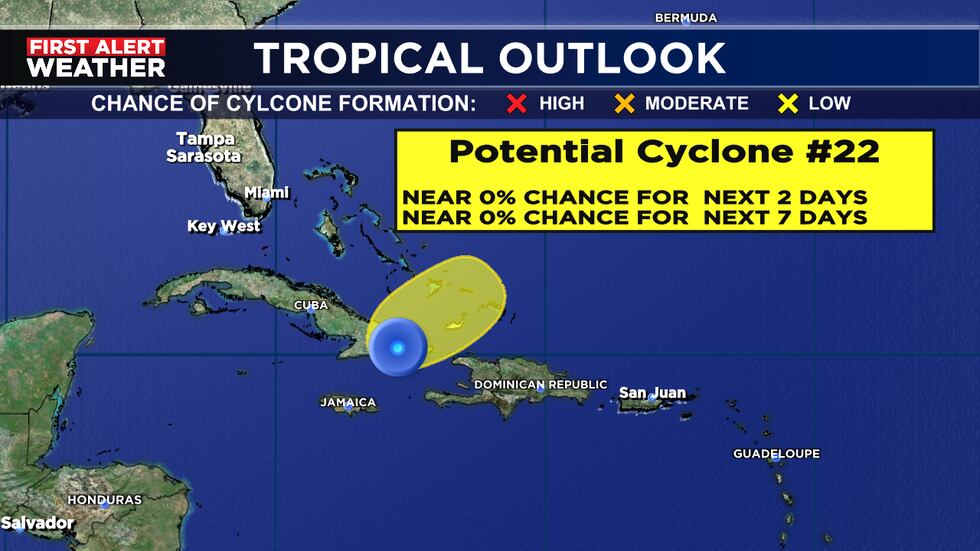 Copyright 2023 WWSB. All rights reserved.