Rare November tropical cyclone likely to develop
Sunshine returning for the weekend
Published: Nov. 16, 2023 at 9:02 PM EST
SARASOTA, Fla. (WWSB) - "It aint over till it's over" is the famous quote from the immortal words of Yogi Berra. The same can be said about the 2023 hurricane season as a rare tropical storm may develop on Friday in the central Caribbean. Not to worry here however as it will follow a path to the NE which is typical for November storms. Right now there are tropical storm watches out for Jamaica, E. Cuba, Haiti along with the central Bahamas.
It will bring heavy rain and strong tropical storm force winds to the above mentioned islands over the weekend. Over the past 170 years of so we have seen just 18 storms develop in November. There were two November storms last year. If this potential tropical storm were to develop it would then be the 20th named storm of the season. Thankfully this storm will stay well east of Florida.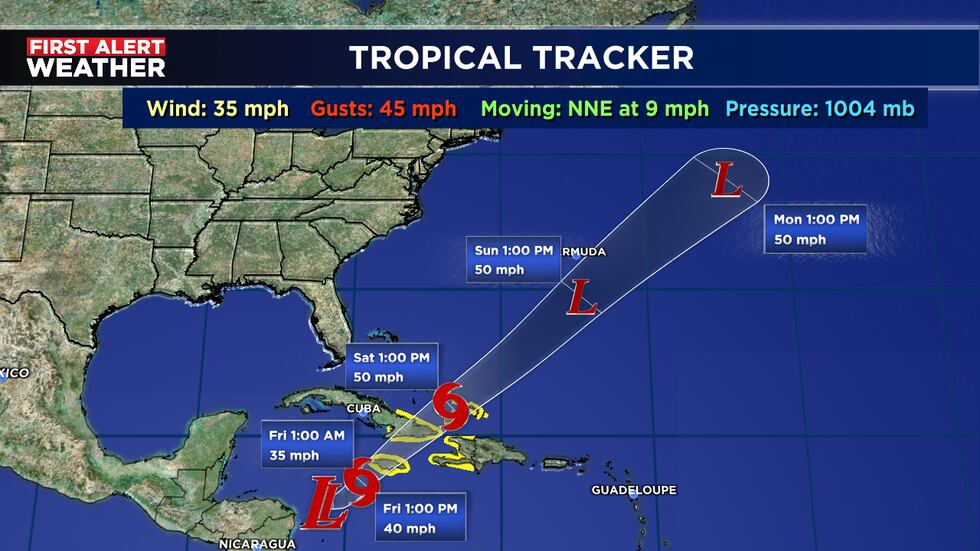 We could use a tropical low but not a tropical storm to help out with our rainfall deficit. We are over 20″'s below average for the year and little rain is expected over the next 7 days. Friday a low pressure system off the east coast of Florida will move NE away from Florida and high pressure will build in. This will begin to clear our skies on Friday. We will still see some low clouds whipping around the system to our east. We will still see much more sunshine on Friday. The high on Friday will be near 80 degrees.
Saturday the low will be in the upper 60s and highs will be in the upper 70s to low 80s. Skies will be generally sunny on Saturday with winds out of the north at 5-10 mph. Sunday looks to be the same with plenty of sunshine and highs near 80 degrees and no chance for rain.
The weather stays nice on Monday with a high in the low 80s. Tuesday we will see winds start to pick up out ahead of a cold front which will be out of the south and southwest. This will bring partly cloudy skies and highs in the low 80s.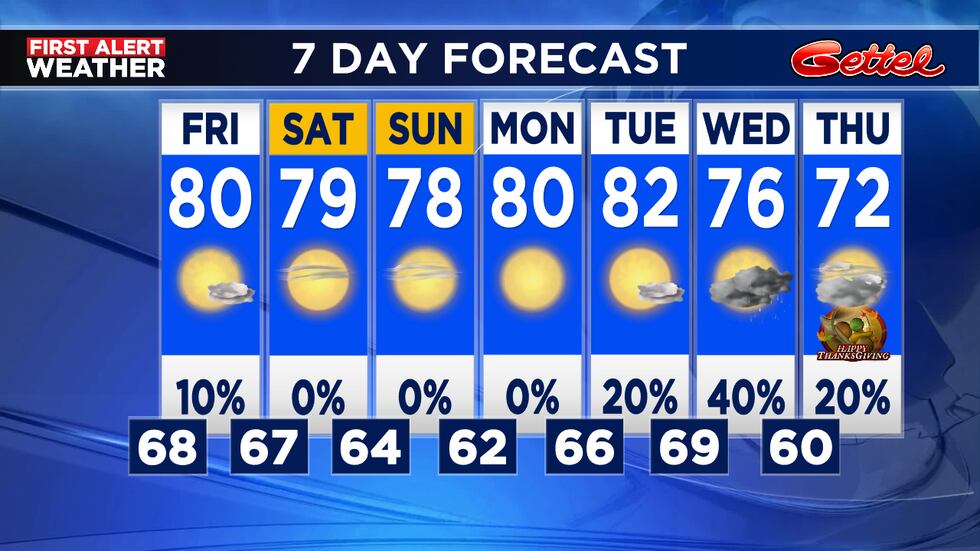 Wednesday the cold front begins to move in and brings mostly cloudy skies with a chance for showers and a few thunderstorms our way. Right now at the time of this writing there is confusion between the long range models. One pushes the front through our area, while the other keeps it near our area. The high on Wednesday will warm into the mid to upper 70s with a chance for scattered showers.
For Thanksgiving it looks like we will see mostly cloudy skies with highs only in the low 70s. However if the front pulls up stationary near our area it wont get as cool but we will see mostly cloudy skies and along with a slight chance for some showers.
Copyright 2023 WWSB. All rights reserved.