First Alert Weather Day Wednesday
Windy Wednesday with boating advisories in effect
Published: Nov. 14, 2023 at 9:09 PM EST
SARASOTA, Fla. (WWSB) - Finally some much needed rainfall is likely on Wednesday. We have issued a First Alert Weather Day for Wednesday meaning we will see some disruptive weather at times. That rain should begin to pick up later in the day on Wednesday afternoon and through the evening as the low pressure gets closer to Florida. The time of this "First Alert Weather" will be mainly in the late afternoon and evening. With a scale of Green, Yellow or Red" we will see mainly a green First Alert Weather day, meaning not anticipating any severe weather as we would with a "Red" FAWD, however we could still see a few thunderstorms move in out ahead of the low pressure system.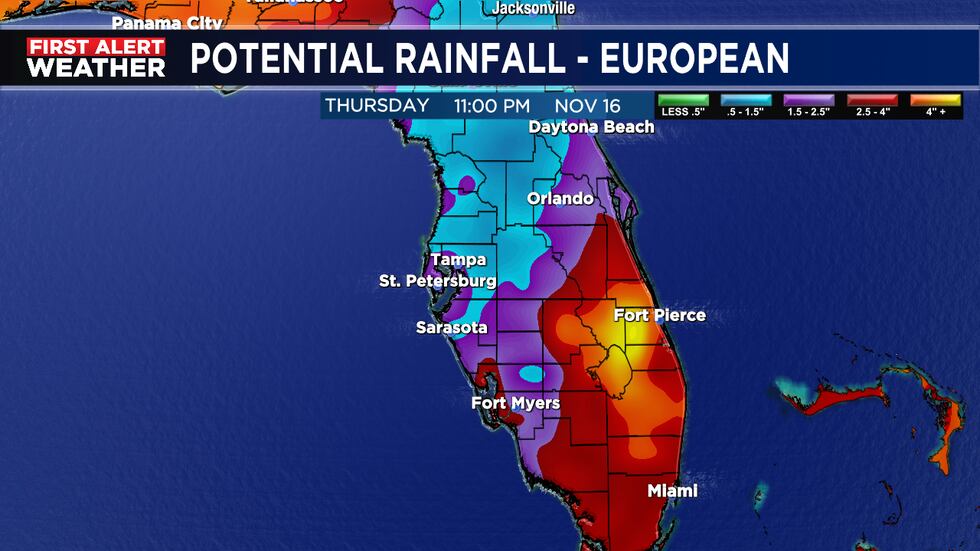 At the time of this writing (Tuesday Evening) the forecast models are suggesting some widespread rainfall amounts of an inch or more. The rain chance is at 60% mainly later in the day. There is still is a small chance for a few showers during the morning hours.
We will see mostly cloudy skies on Wednesday with windy conditions throughout the day. There is a small craft advisory in effect through Thursday morning till 1 a.m. Winds will be out of the east and southeast at 10-20 mph with some gusts up to 30 mph. Seas will be 2-4 feet making things rough out there for boating. The high on Wednesday will near 80 degrees.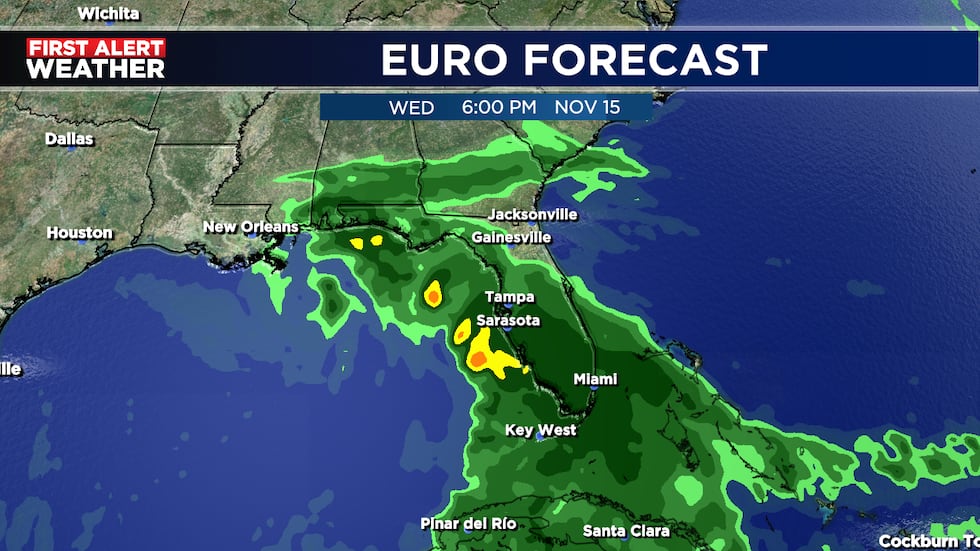 Wednesday night and early Thursday morning we will continue to see showers and a few isolated thunderstorms with the windy weather continuing. Lows will drop into the upper 60s.
Thursday we will continue to see mostly cloudy skies so not the best of beach days but the rain chance will be tapering off down to 50% in the early morning and 30% chance by midday. Winds will be out of the east still a bit breezy but not as windy as Wednesday. Highs on Thursday will be in the upper 70s to low 80s.
Friday things begin to clear out so look for partly cloudy skies and highs in the low 80s. Should be a nice day with the winds calming down a bit as the area of low pressure gets further away.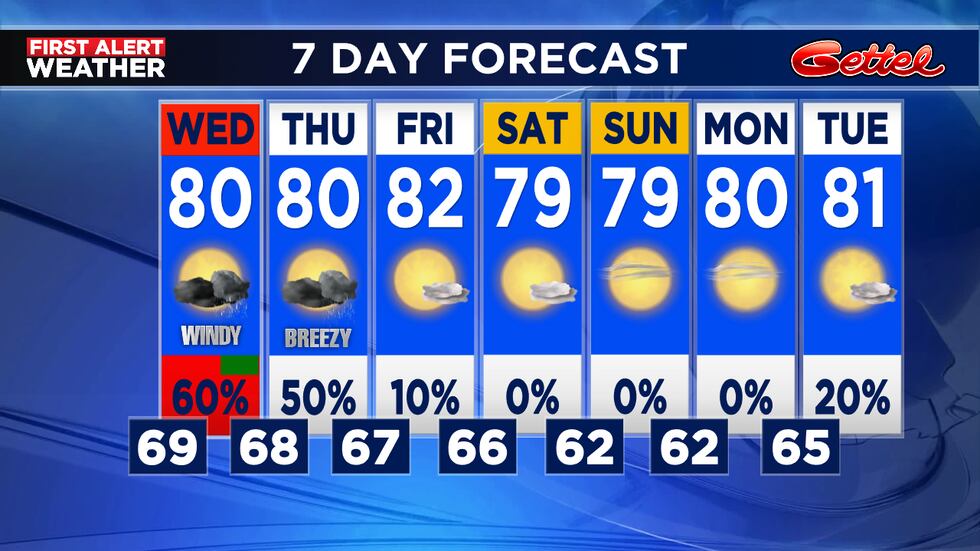 The weekend is looking great with mostly sunny skies and highs near 80 degrees each day. It will be a bit cooler on Sunday morning with lows in the upper 50s to low 60s as winds turn to the north at 5-10 mph.
In the tropics we are now watching two areas for possible development. The National Hurricane Center is now giving an area off the SE coast of Florida a 10% of developing into a tropical cyclone over the course of the next 7 days as it moves to the NE away from Florida. The other area we have been watching is in central Caribbean. The chances for it developing are still high at 60% but that is down from 70% since yesterday. Even if this system develops it will move NE toward Haiti and the Dominican Republic.
Copyright 2023 WWSB. All rights reserved.