Rare tropical system possible in Caribbean
Best chance for some much needed rainfall Wednesday and Thursday
Published: Nov. 13, 2023 at 8:50 PM EST
SARASOTA, Fla. (WWSB) - It has been a strange year weatherwise this year. It was the hottest summer on record and the driest year-to-date so far. We are over 22 inches below average so far but there may some small relief in sight this week. An area of low pressure in the NW Gulf of Mexico is expected to track toward Florida on Wednesday. This system is not tropical but is bringing a good chance for showers and thunderstorms for our area late Wednesday and into early Thursday. It will also bring very windy conditions along with it beginning late Tuesday and last through early Thursday.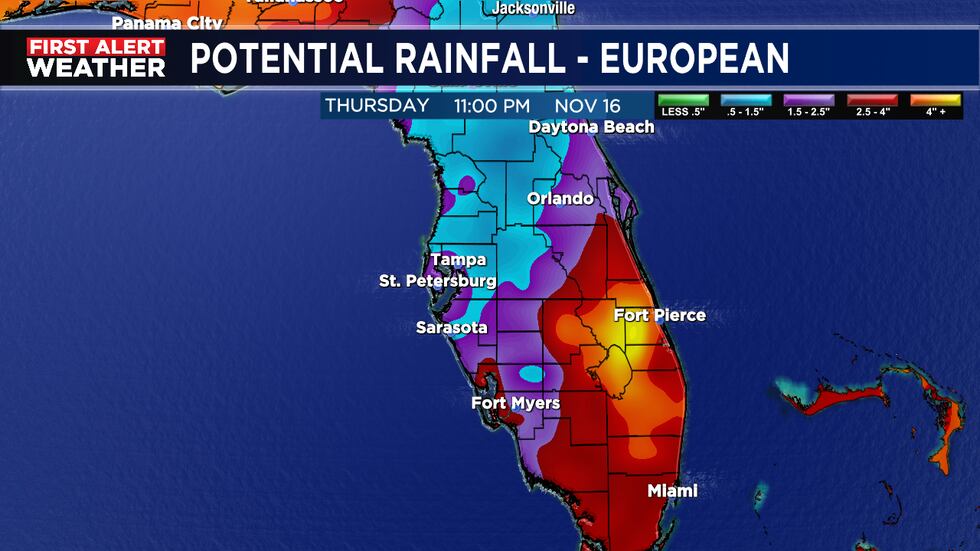 Winds will be out of the east generally at 15-20 mph beginning late Tuesday and stay strong on Wednesday. We will see some gusts up to 30 mph on Wednesday. There will be quite a bit of cloudiness on Tuesday with some high clouds coming in from the west and low level clouds coming in from the east. Along with the clouds expect to see a 30% chance for a few afternoon and evening showers on Tuesday.
Wednesday we will see mostly cloudy skies with a good chance for showers and a few thunderstorms throughout the day with the most likely time for rain coming late Wednesday into early Thursday morning. We will have highs in the upper 70s to low 80s along with very breezy conditions on Wednesday. The rain chance for Wednesday is at 60% with the bulk of the rain coming later in the day.
With a strong low developing off the SE coast of Florida expect to see our winds stay rather strong through Thursday morning. The rain chance for the early morning hours on Thursday stays high at 50%.
Thursday we should begin to see the winds come down a bit but it will still be a bit breezy at times. Skies will be partly cloudy on Thursday with the rain chances lowering during the day. The high will reach into the upper 70s near the coast and low 80s inland.
Friday expect to see mostly sunny skies with little chance for rain and a lot less winds. Temperatures will warm into the upper 70s to near 80 degrees. Should be a really nice day leading into the weekend. Both Saturday and Sunday are shaping up to be beautiful with highs near 80 degrees each day.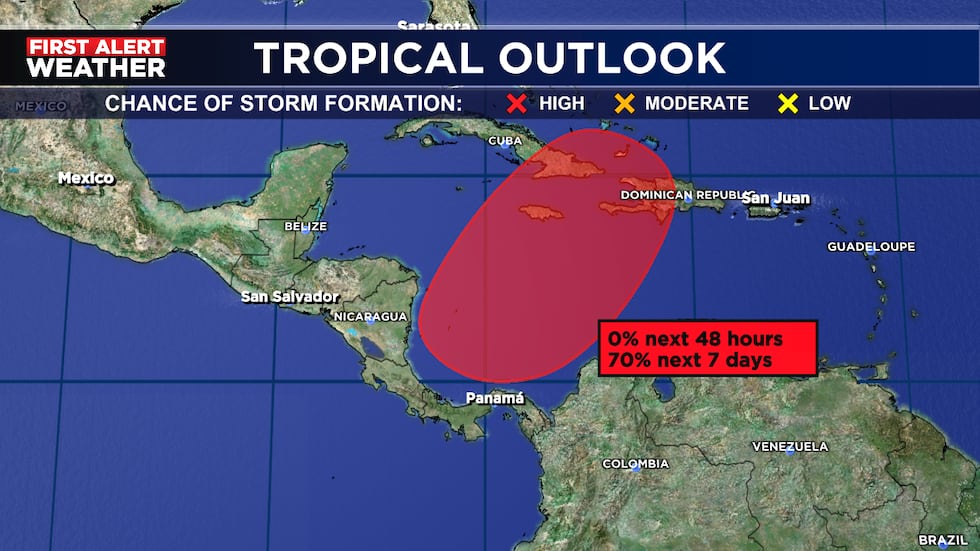 Could we see Vince forming in the Caribbean? Right now this system has a 70% chance of developing in the central Caribbean and then moving to the NE toward Haiti and the Dominican Republic. This system will bring flooding rains and dangerous mudslides to Hispaniola later this week. It is expected to stay well away from our area as it tracks toward the open waters of the Atlantic.
Copyright 2023 WWSB. All rights reserved.