Humidity Sticks Around
Rain Chances Spike Mid Week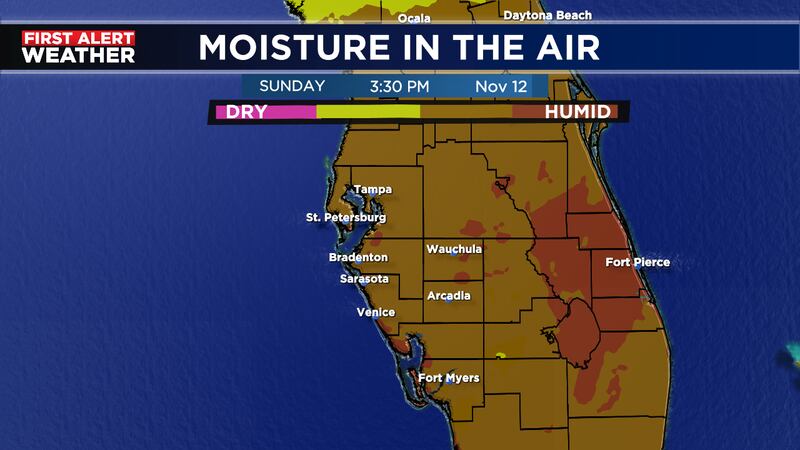 Published: Nov. 11, 2023 at 5:45 PM EST
SARASOTA, Fla. (WWSB) - It will continue to feel a bit humid on Sunday to close out Veterans Day weekend. We are still feeling above average temperatures as the warming trend continues with highs in the mid 80s. The feels-like temperature will rise to the mid 90s on Sunday, as dew points will once again reach the 70s. The morning wake up call will be in the low 70s along coastal communities, and a few degrees cooler inland. Skies will be partly sunny with little chance for rain. The few sprinkles we could see would develop more inland.
Boaters may want to plan their outing on Sunday, as winds will kick up once the work week begins. On Sunday, winds will be out of the northeast five to ten knots, then coming from the north in the late afternoon around ten to 15 knots. Winds will kick up as the week progresses and a low pressure system makes its way across the Gulf of Mexico to Florida on Wednesday. Rain chances will spike on Wednesday with the arrival of the low, and the increase of moisture in the atmosphere. Expect gusts above 20 knots beginning Monday evening on the water. Beachgoers will have a moderate ultra violet index with highs in the low 80s. There will be a very mild breeze in the afternoon. It will be partly sunny, a little humid and dry, as coastal rain is not in the forecast for Sunday.
We are tracking a disturbance in the southwest Caribbean Sea. It has a 30% chance of development within seven days and no chance within two days. The American GFS model has it developing into a hurricane and crossing Haiti next week. The European model shows no sign of tropical development.
Copyright 2023 WWSB. All rights reserved.