Veterans Day Weekend Could See Record Highs
Tracking a Disturbance in the Caribbean Sea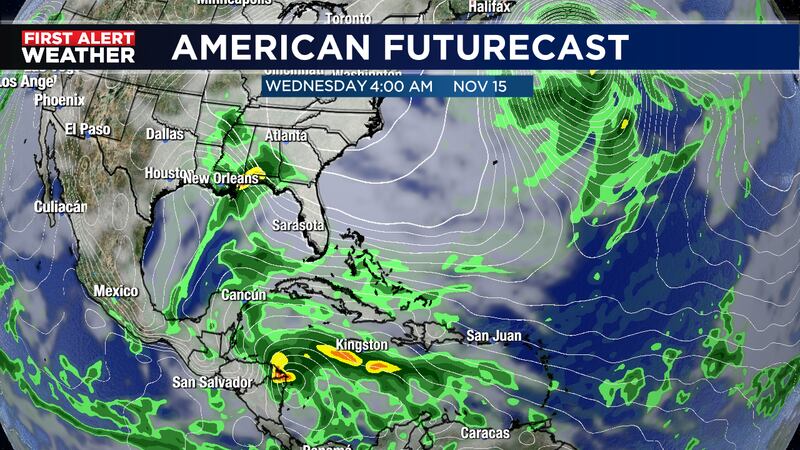 Published: Nov. 9, 2023 at 8:36 PM EST
SARASOTA, Fla. (WWSB) - A new disturbance has developed in the southwest Caribbean Sea. The National Hurricane Center has marked it as having a 20% chance developing into a depression within seven days and no chance within two days. The American GFS model has this disturbance turning into a hurricane late next week. The GFS model has the potential track traveling over Cuba, then passing through the Bahamas before heading northeast into the Atlantic Ocean. However, the European model, which is generally more accurate with tropical cyclones, shows no tropical development. It is too early to tell if this disturbance will develop, however, with the water temperatures significantly warm in the Caribbean Sea, we will be keeping a close eye on this area.
Friday will be more humid and slightly warmer than Thursday, with highs in the mid 80s along the Suncoast. Morning lows will hang out in the mid to upper 60s. The holiday weekend is shaping up to be hot, sunny and somewhat humid. Rain chances remain slim to none over the next week. Manatee and Sarasota county remain in an extreme drought along the coast and somewhat east of I-75. Elsewhere within the two counties, the drought level remains in the moderate to very dry category.
We could see record highs on Veteran's Day. The all time record for November 11th is 88 degrees, and the forecasted temperature is expected to reach 87.
It will be a beautiful weekend to take the boat out on the water. Plenty of sunshine is in the forecast with comfortable winds between five and ten knots. Winds will be coming from the southeast, then arrive from the southwest later in the day. Seas will be less than two feet. Expect a similar situation on Saturday and Sunday with a variation in wind direction. For beachgoers, Gulf water temperatures will be a refreshing escape from the heat at around 74 degrees. The ultra violet index will be in the moderate category.
Copyright 2023 WWSB. All rights reserved.