Staying warm and beautiful
Tropics still quiet for now
Published: Nov. 7, 2023 at 9:18 PM EST
SARASOTA, Fla. (WWSB) - November weather is typically the best weather of the year with average high temperature around 80º with little chance for rain. We usually only see a couple of inches during the whole month of November. With high pressure in firm control we are not expecting to see any significant rain over the next 7 to 10 days. However the 90 day outlook from the NOAA ( National Oceanic and Atmospheric Administration) is showing above average chances for some much needed rainfall for our area.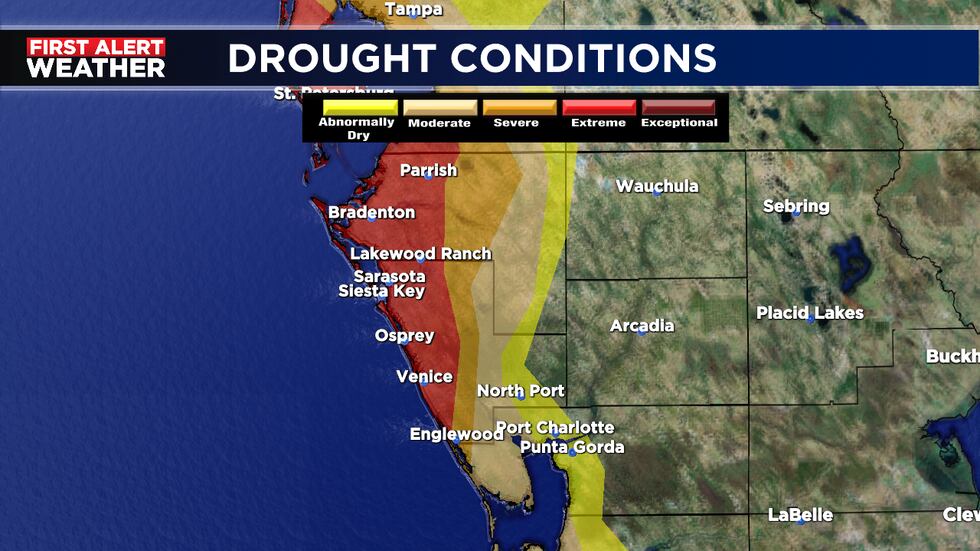 We are in an extreme drought across much of the population here along the Suncoast. From Parrish to Englewood we are running a deficit of over 20 inches from year to date.
We are expecting to see a strong to moderate El Nino through the winter months. This usually means we are going to see a wet winter with a much better chance for severe storms and possibly some tornados with some of the cold fronts moving through the area on a more frequent basis. This is due to a very active sub-tropical jet stream. The fast moving stream of air flowing from west to east at 30 thousand feet can sometimes enhance storms as they move in with these cold fronts.
There are no cold fronts for this work week with highs expected to reach into the low to mid 80s each day. Lows will be a few degrees above the average on 62 degrees. Skies will be generally sunny throughout the much of the day with only a few fair weather clouds during the afternoon. There is no chance of any rainfall through the work week.
A weak cold front will move close on Saturday and bring a 10% chance for a few showers. We will still see a nice warm weekend with highs in the mid 80s with just few more clouds now and again. It will get a bit breezy over the weekend but should stay below advisory levels.
The tropics are quiet for now but the good old GFS or American model is suggesting a system developing in the western Caribbean next week. The GFS is known for spinning up bogus storms in its long range forecasts.
Copyright 2023 WWSB. All rights reserved.