First Alert Weather: Warming trend starts today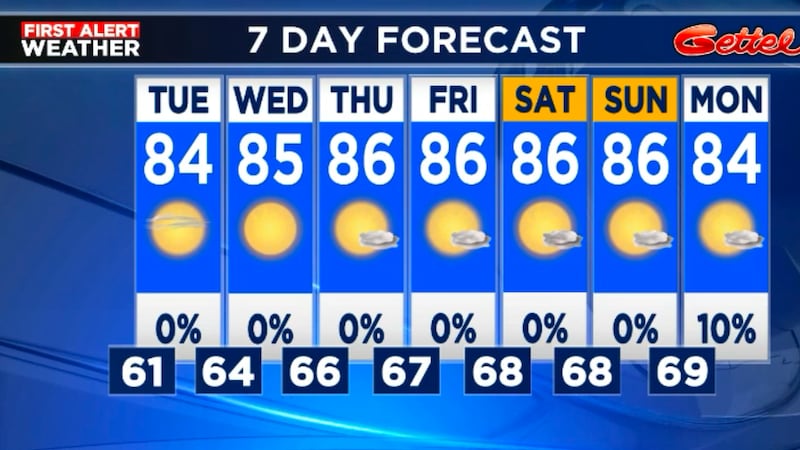 Published: Nov. 7, 2023 at 2:45 AM EST
SARASOTA, Fla. (WWSB) - Moisture slowly returns to the air today as high pressure settles over the area.
Morning temperatures will run five or six degrees above yesterdays cool morning lows. We will see the dew points (the measure of moisture) rise into the lower 60s by later this afternoon.
The moisture will serve to keep the morning temperatures warmer and the afternoon highs slightly more humid, but still very comfortable. Despite the increase in the surface moisture, the air aloft will still be very dry and any chance for showers will have to wait until, perhaps, next week.
High pressure aloft will heat the surface air through compressional heating. Much like the body of an air pump heats up, our surface air will climb from the low 80s to mid-80s by the day after tomorrow. Sunny skies will be the name of the game this week and it should be a very lovely weather week ahead.
In the tropics all is quiet. There are a few tropical waves in the Atlantic, but no hints of development at this time. Historically, we look to the southwest Caribbean for cyclone development at this time of year. However, the Climate Center gives only a 20% likelihood for development over the next two weeks.
For all you leaf-peepers out there, near optimum conditions are currently forecast for the mid-Atlantic up into New England, back into the northern tier states and then west of the Continental Divide.
Copyright 2023 WWSB. All rights reserved.