Sunrise Appears an Hour Earlier Due to Time Change
Roll Your Clock Back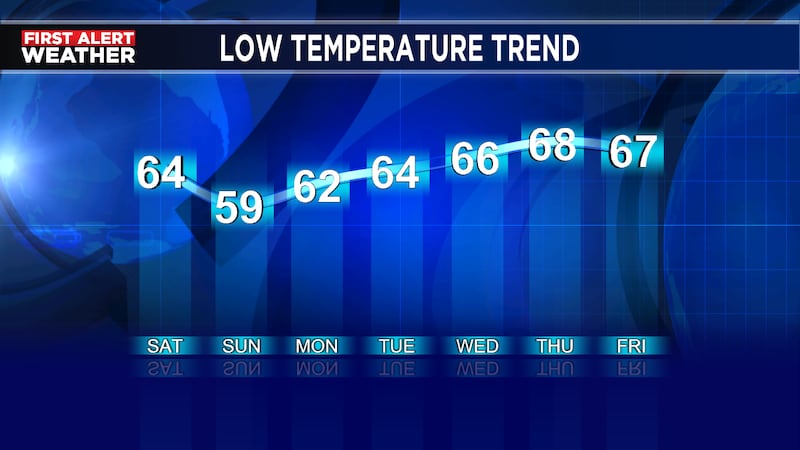 Published: Nov. 4, 2023 at 11:57 PM EDT
SARASOTA, Fla. (WWSB) - Early morning risers and joggers may enjoy seeing sunlight an hour earlier on Sunday morning. It's that time of year when we fall back, meaning we turn our clocks back one hour. This will make sunrise at 6:41 a.m. in Sarasota. Sunday morning's wake will be cool and crisp in the low 60s. High temperatures will climb to the low 80s. Plenty of sunshine and little cloud coverage are on the ticket for the remainder of the weekend. It will be breezy with winds out of the northeast between ten and 15 mph with gusts up to 20 mph.
High pressure to the northeast and a lack of moisture in the atmosphere will keep the feels-like temperature close to the air temperature. It will feel quite dry and chilly for some in the morning, then conditions warm up and sunshine dominates the afternoon. Winds will die down once the work week gets underway. However, sunshine, dry air and a lack of rain will continue all week.
For boaters, breezier conditions will be felt on the water Sunday. Shipmates can once again expect choppy seas between two and three feet within 20 miles off shore. Conditions are rougher further than 20 miles. Winds will remain out of the northeast starting at ten to 15 mph, then becoming 20 mph later in the afternoon. Wind at sea will normalize during the work week. Beach conditions should be breezy with a high ultraviolet index. Gulf water temperatures near the coast have been hanging out in the mid to upper 70s.
In the tropics, it is quiet off the coast of Africa. There is only one disturbance to keep an eye on near Central America. It will soon cross over Nicaragua where it could form in the Pacific Ocean. Currently it has no chance of developing within two or seven days.
Copyright 2023 WWSB. All rights reserved.