Cold front to bring windy weather late Wednesday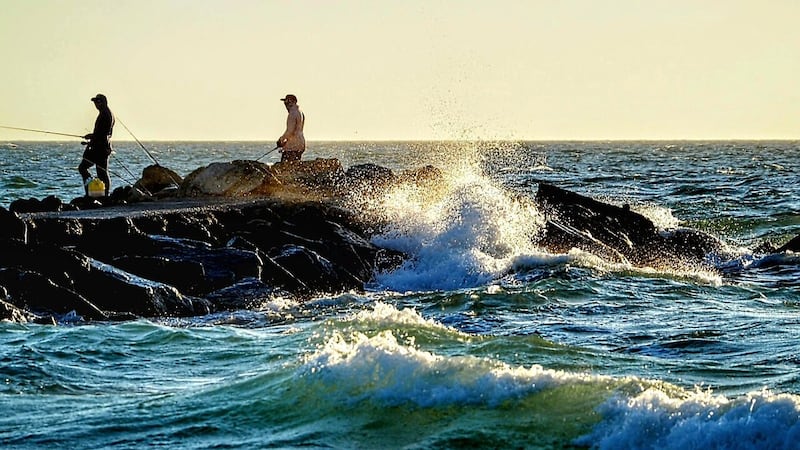 Published: Oct. 31, 2023 at 8:41 PM EDT
SARASOTA, Fla. (WWSB) - A weak cold front will be moving through on Wednesday morning bringing gusty winds and cooler temperatures to our area. We don't expect to see any big storms with this front as the air out ahead of it will be dry. Winds will really pick up out of the north and northeast at 15-20 mph with some higher gusts by late Wednesday. The pressure gradient will really tighten up due to high pressure building in behind the front and an area of low pressure close to the NW Bahamas. We are under a small craft advisory for boaters until 5 a.m. Friday. Winds and seas will be out of the NE at 20-25 knots and seas building up to 6-8 feet through Thursday.
We will see only a few clouds with the passage of this front on Wednesday and less than a 10% chance for a passing shower or two. Temperatures will be noticeably cooler during the afternoon with highs in the mid 70s. It will not be that cool to start the day with lows in the mid 60s on Wednesday.
It will get windy Wednesday night and Thursday with some gusts up to 35 mph out of the NE. We will see the coolest morning with this front on Thursday. The lows will drop into the mid to upper 50s to start the day. With the wind out of the NE at 20-25 mph it will feel a bit cooler. There will be plenty of sunshine on Thursday and breezy with highs in the upper 70s to low 80s.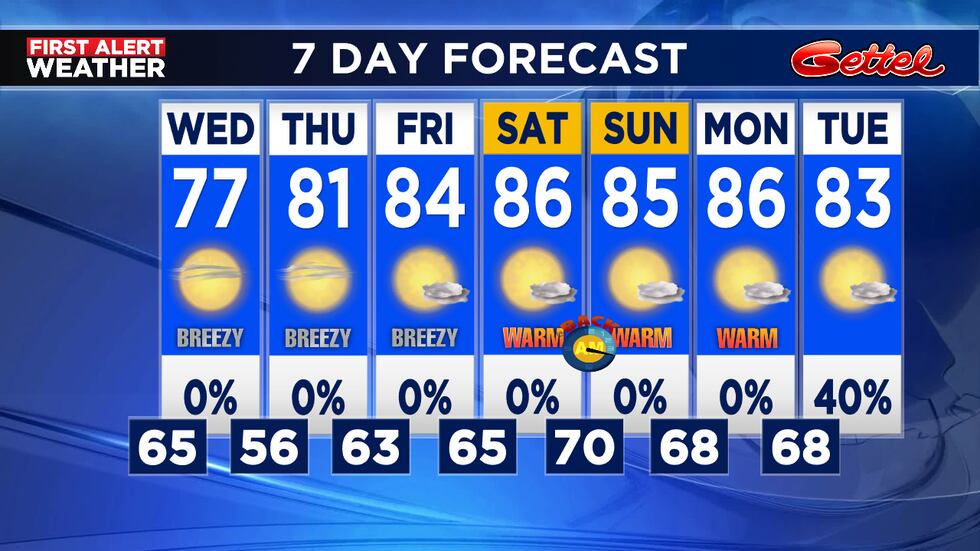 The warm-up will begin on Friday with highs in the mid 80s. It will still be a bit breezy with winds out of the NE at 15-20 mph. There will be plenty of sunshine on Friday.
The weekend is looking good with mostly sunny skies and warm temperatures. Highs will reach into the mid 80s near the coast and some upper 80s well inland.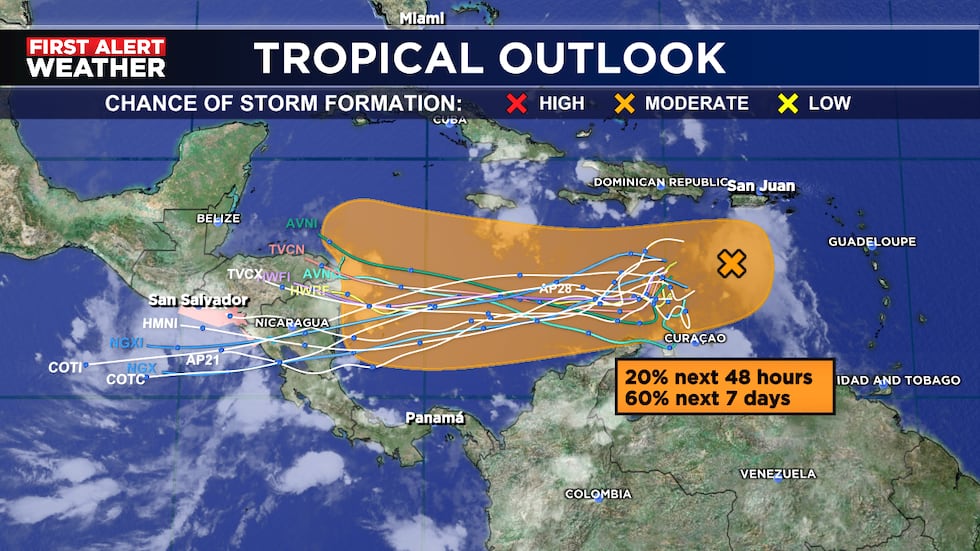 In the tropics we are watching an area of disturbed weather in the central Caribbean. This tropical disturbance is expected to move west toward the western Caribbean in a couple of days. It has a 60% chance of developing into a tropical depression or storm by the weekend. It should stay well south of our area to be concerned about as it will move into Central America.
Copyright 2023 WWSB. All rights reserved.