Chilly start for Thursday and windy as well
Lows in the 50′s
Published: Nov. 1, 2023 at 7:59 PM EDT
SARASOTA, Fla. (WWSB) - You may need to grab a sweater or light jacket as you head out to work tomorrow morning as lows will be below the average which is 64 degrees. The winds will be strong out of the NNE at 15-20 mph making it feel even cooler to start the day.
We will see mostly fair skies overnight with lows in the mid to upper 50s area wide. A small craft advisory is in effect for Gulf waters through 5 a.m. Friday morning. With the winds turning more to the NNE overnight we should see the crashing waves along the beaches lessen. A rip current statement is in effect until 10 p.m. Wednesday night and then it should be allowed to expire.
For Thursday we will see mostly sunny skies and temperatures still below average with highs making it to 80º for most everyone. The beaches could be a little cooler with highs in the upper 70s.
Friday will still be breezy but not as windy as Thursday. Those winds will be out of the ENE at 10-15 mph with gusts up to 20 mph at times. There will be plenty of sunshine with a moderate UV index at 5. Temperatures will warm into the low to mid 80s but the humidity will stay low.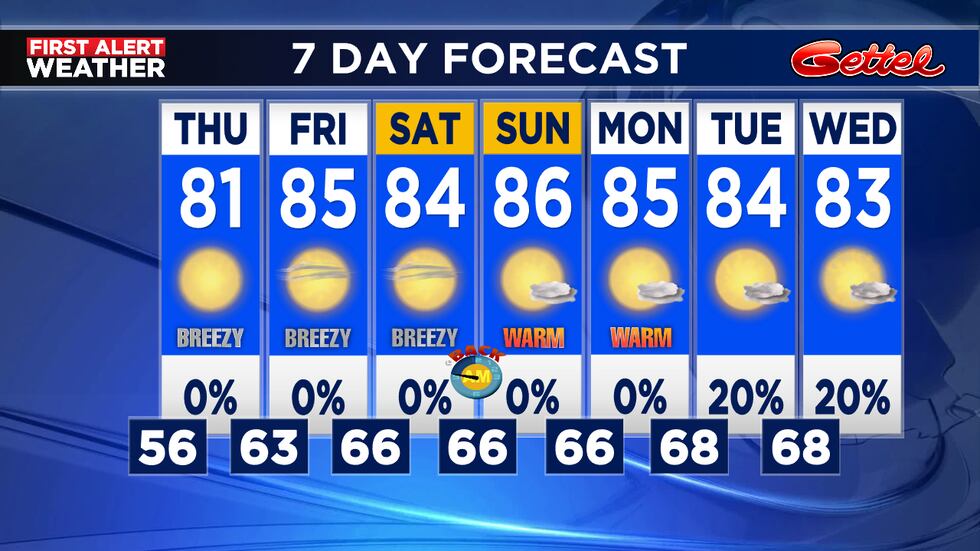 For the weekend look for those winds to calm down to 5-10 mph by late Saturday afternoon. We will still see a slight problem for boaters with small craft exercising caution due to winds out of the ENE at 10-15 knots and gusts to 20 during the morning hours.
Sunday appears to be the best day for boating this weekend as the winds will drop below advisory and cautionary levels with winds out of the NE at 10-15 knots and seas around 2 feet. We will see mostly sunny skies and highs in the mid 80s.
Not seeing much in the long range forecast models at this time. There is a hit that we could see a stronger cold front with some rain on November 11th.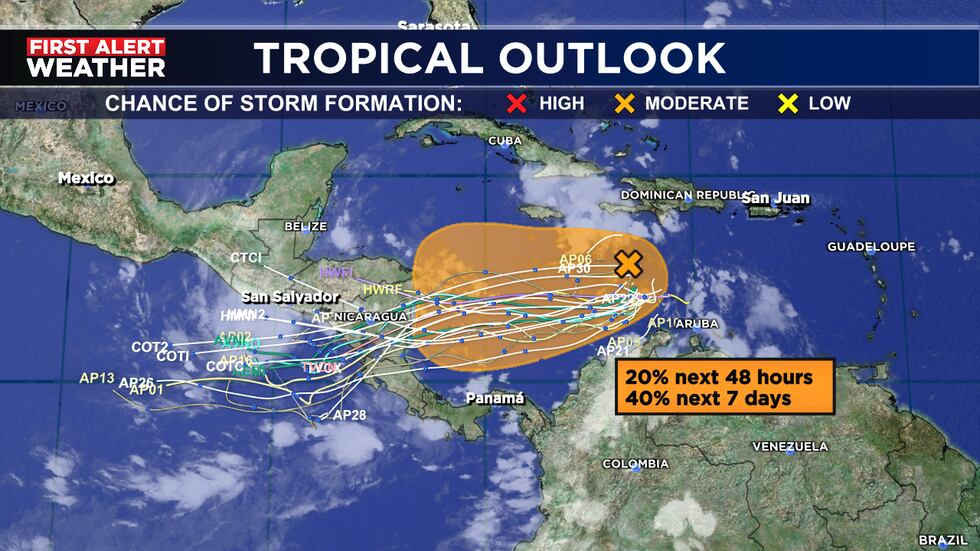 In the tropics we continue to watch a disturbance in the central Caribbean that is moving to the west at 15 mph. The chance of it developing is trending downward over the past 24 hours due to some shear. The chances of developing has dropped from 60% of developing to 40% over the next few days before it moves into the Central America.
Copyright 2023 WWSB. All rights reserved.