Watch Out for Werewolves Overnight with a Full Moon and Cool Temps
New Disturbance near Dominican Republic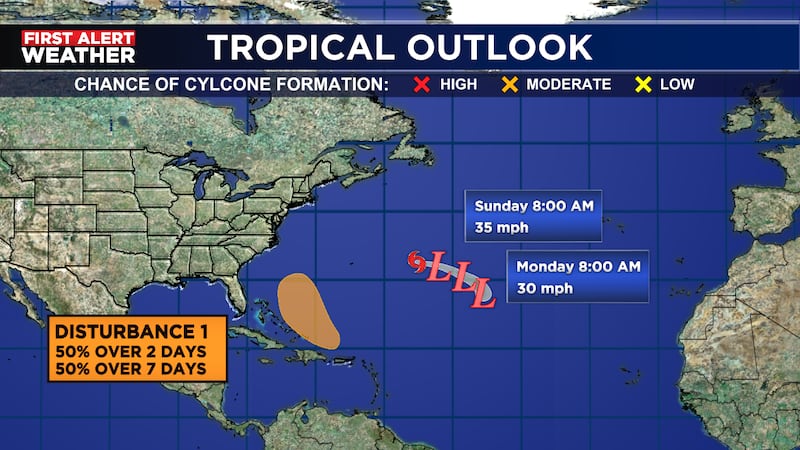 Published: Oct. 29, 2023 at 12:01 AM EDT
SARASOTA, Fla. (WWSB) - Goblin and ghouls celebrating Halloween this Saturday evening will experience a cool, dry overnight with a full moon ripe for werewolves. Temperatures will be in the low 70s most of the evening, and dip to the upper 60s near coastal cities by daylight. Inland counties can expect it a few degrees cooler. Sunday will repeat with highs in the upper 80s, feeling hot but not humid.
Dry air and easterly winds remain dominant. It will be breezy for boaters with winds out of the northeast ten to fifteen knots and gusts up to 20 knots. Beach conditions will be favorable with plenty of sunshine, dry skies and low humidity. Gulf water temperatures will be in the mid to upper 70s. The ultra violet index will be high, therefore sunscreen is recommended.
In the tropics, a new disturbance is attempting to organize about 200 miles north of the Dominican Republic. Within one day it has jumped to a 50% chance of developing into a depression within two or five days. If the system becomes a depression or tropical storm over the next two days, it will likely be short-lived according to the National Hurricane Center. By Monday, upper level winds should be too strong for further development. The path of the current disturbance is projected to turn northward toward the east of the Bahamas. Meanwhile, the disturbance in the Caribbean Sea has dissipated and lost hope of organizing.
Copyright 2023 WWSB. All rights reserved.