Rays push for swift approval of financing deal for new ballpark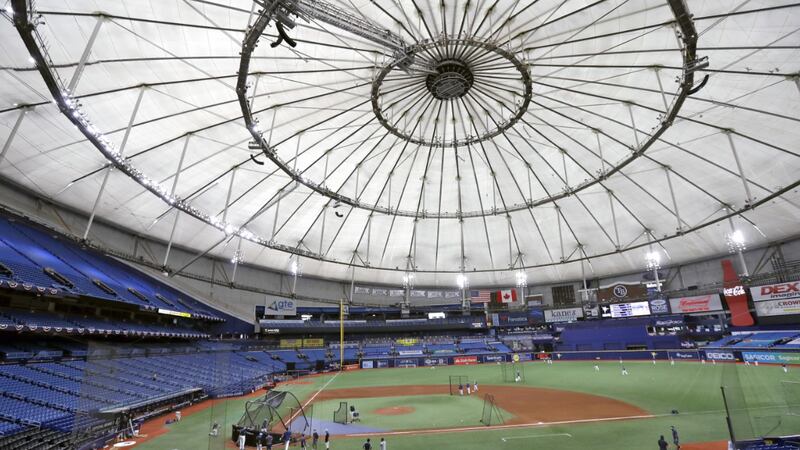 Published: Oct. 27, 2023 at 7:15 AM EDT
ST. PETERSBURG, Fla. (AP) — The Tampa Bay Rays are pushing for swift approval of a financing deal for a new 30,000-seat ballpark, part of a much larger $6 billion redevelopment project that includes affordable housing, a hotel, a Black history museum and many other items.
The St. Petersburg City Council on Thursday got its first detailed public look at the ballpark financing plan, which will be shared by the city, Pinellas County, the Rays and their Hines company partner. Brian Auld, the team's co-president, said the goal is to obtain government approvals by March so that construction can stay on schedule for opening day of the 2028 season.
"If we miss that opening date, this entire endeavor becomes impossible. We cannot put these dates at risk along the way," Auld said.
The new $1.3 billion ballpark would be located on the same 86-acre (34-hectare) tract of downtown land where Tropicana Field now sits. That domed stadium, which the Rays have called home since 1998, would be demolished. The deal initially announced last month would lock the Rays into their new home for at least 30 years, ending speculation the team would move to Tampa or perhaps another city.
It also would keep what Mayor Ken Welch has said were promises made to a majority-Black neighborhood known as the Gas Plant District that was displaced for the existing Rays stadium and an interstate highway. Promises for economic opportunity for those residents made decades ago never came to fruition, he said.
"It does all of those things that we can afford," said Welch, who is St. Petersburg's first Black mayor. "This land has a promise attached to it."
The financing plan calls for the city to spend $417.5 million, including $287.5 million for the ballpark itself and $130 million in infrastructure for the larger redevelopment project that would include such things as sewage, traffic signals and roads. The city intends to issue bonds to pay its share, according to city documents, with no new or increased taxes envisioned.
Pinellas County, meanwhile, would spend about $312.5 million for its share of the ballpark costs. Officials say the county money will come from a bed tax largely funded by visitors that can be spent only on tourist-related and economic development expenses.
The Rays will be responsible for the remaining stadium costs — about $600 million — and any cost overruns during construction. The team would have naming rights to the ballpark, which could top $10 million a year.
At the city council Thursday, most of the eight members expressed support for the ballpark but some wondered about such a large public dollar commitment. No votes were taken.
"I would love this team to be the anchor but just not at the expense of the city," said council member Richie Floyd. "My concern is the public side of things. Otherwise, it represents a transfer of wealth from the public to the private and I'm not for that."
The broader project to redevelop the Gas Plant District — overseen by the Hines company, a global development firm that is the Rays' partner — will take as long as 20 years, officials said. It includes such things as 1,200 affordable housing units, a 750-bed hotel, retail and office space, a Black history museum and a performing arts center.
Combined, the ballpark and the bigger project would create an estimated 32,900 construction and related jobs, with 11,000 more permanent jobs once everything is operational, city documents say. The Rays and Hines are estimated to invest about $5.8 billion in the entire project.
The goal is to make the entire area, most of which is a parking lot now, into a destination with the Rays as its catalyst, officials said.
"Every good mixed use project has a great anchor tenant. I really think that's what we have here with the stadium on site," said Brandi Gabbard, the city council chair. "Our next generations are going to benefit across the entire city from this development."
Copyright 2023 WWSB. All rights reserved.