Moisture to stick around through Saturday
Rina expected to develop in the Atlantic
Published: Sep. 26, 2023 at 9:01 PM EDT
SARASOTA, Fla. (WWSB) - An upper level disturbance in the Gulf will continue to bring us some clouds on Wednesday along with a good chance for showers and thunderstorms. With wind out of the south and southeast we will continue to see plenty of moisture through the entire column of the atmosphere. We will see variable cloudiness with a 70% chance for showers and thunderstorms at anytime during the day on Wednesday.
Really from Thursday through Saturday the rain chance will stay high with a 50-60% chance for scattered showers and thunderstorms. Now with the atmosphere really juiced up expect to see some of the storms to produce some copious amount of rain at times. Skies will be partly cloudy to mostly cloudy through the day. Temperatures will warm into the mid to upper 80s each day and lows in the low to mid 70s.
Now Sunday we may see a little less action but still there is a 40% chance for scattered showers and thunderstorms. Highs on Sunday will reach into the upper 80s to near 90º.
Monday a backdoor cold front may move through bringing a some slightly cooler temperatures and lower humidity so the rain chances go down to 20%. This drier and slightly cooler weather should stick around through Wednesday of next week.
In the tropics we are watching tropical storm Phillippe make its way through the central Atlantic. This storm will not get any stronger as it expected to move into a hostile environment as it gets close to the Greater Antilles by the weekend. There is a disturbance behind this one which is likely to become Rina on Wednesday. Right now wit looks like Rina will follow most of the storms this year and track out into the open waters of the Atlantic. We shall watch them both really closely however.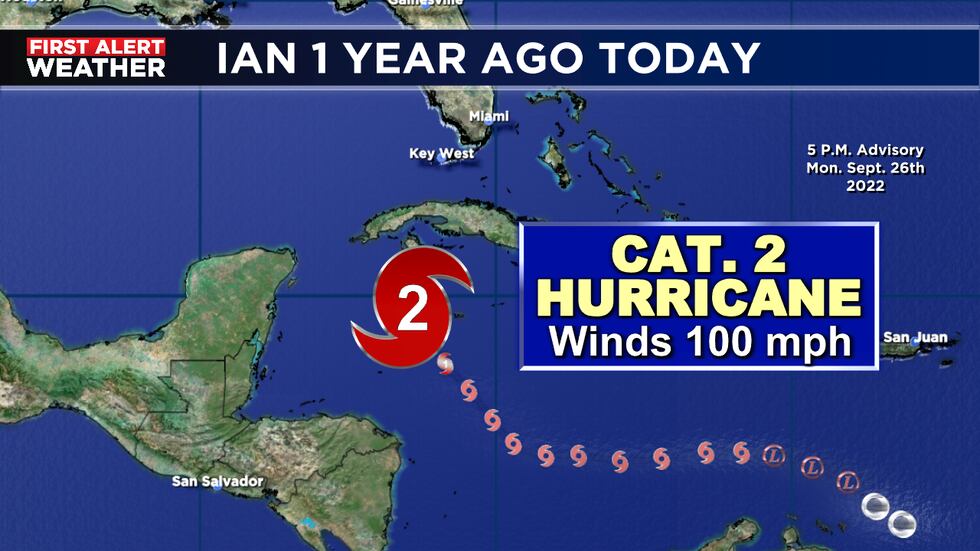 One year ago today Ian was gaining strength just south of the western tip of Cuba. It had winds up to 100 mph and was forecast to get even stronger over the next couple of days. It would eventually do that a couple of days later as the winds would top out at an amazing 160 mph as it approached Caya Costa Florida. It would eventually lose a little strength as it made landfall as a strong Cat. 4 hurricane with winds of 155 mph. on Sept. 28th. The storm surge top out near 15 feet in Fort Myers beach.
Copyright 2023 WWSB. All rights reserved.