Nice weekend ahead with little chance for rain
Ophelia set to make landfall Saturday
Published: Sep. 22, 2023 at 10:13 PM EDT
SARASOTA, Fla. (WWSB) - Drier air is slipping into our area thanks to Ophelia as it moves into North Carolina. The air on the back side of this storm is very dry and is filtering into Florida lowering the humidity and keeping the sunshine in the forecast on Saturday.
Look for mostly sunny skies Saturday with only a 10% chance for a late day shower mainly inland. The high will be in the upper 80s to near 90 degrees. Winds will be out of the NE at 10-15 mph subsiding a bit during the late afternoon.
Sunday we will see mostly sunny skies becoming partly cloudy by afternoon. There is a 30% chance for a few late day showers with a high around 90 degrees.
Monday some more moisture moves back in and we can expect to see a few more afternoon and evening thunderstorms otherwise look for partly cloudy skies and a high near 90.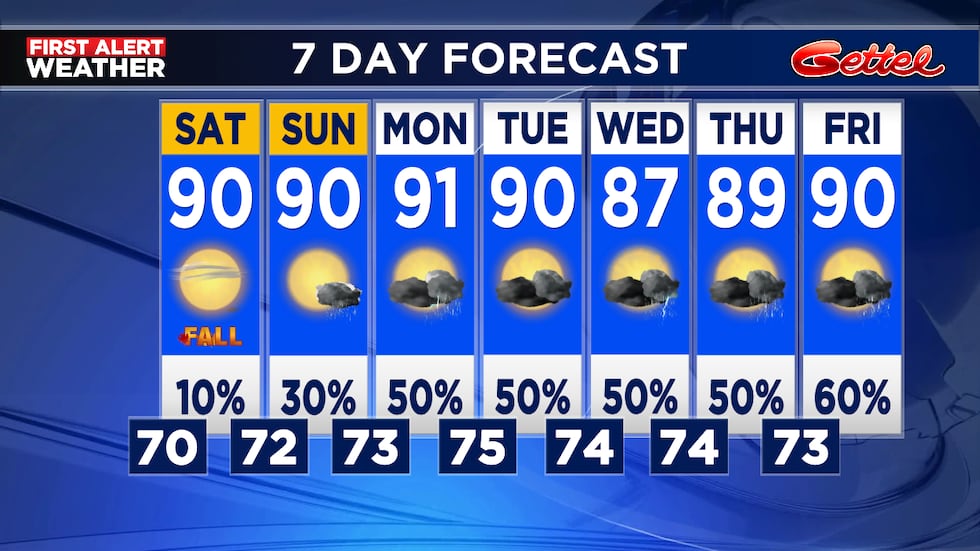 We can expect to see more of the same through the rest of the work week a good chance for some late day storms developing and highs near 90 each day. Look for higher humidity as well through the week.
Ophelia will continue to move make its way onshore into the N. Carolina coastline on Saturday bringing heavy rain and life threatening storm surge all the way up the coast to Delaware.
We are also watching an area of disturbed weather in the south central Atlantic which is likely to develop into Philippe soon as it moves to the west. Most models take this system NE of the Caribbean Islands like Nigel did last week.
Copyright 2023 WWSB. All rights reserved.