Tropical storm warnings up for SE U.S.
Rain chances going down for Suncoast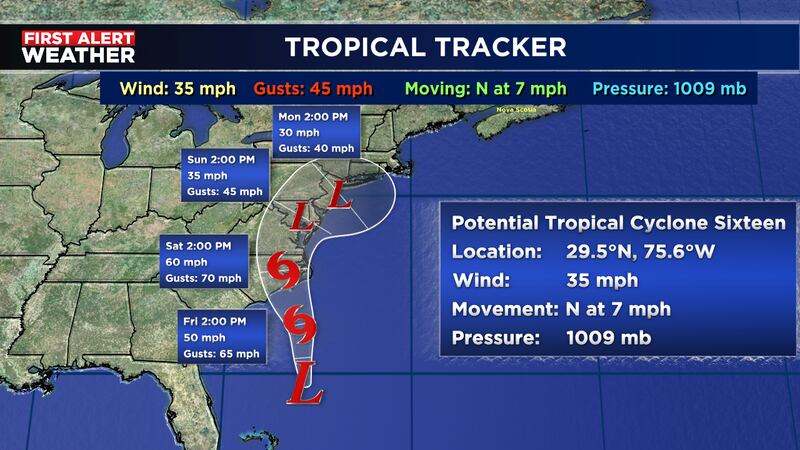 Published: Sep. 21, 2023 at 8:22 PM EDT
SARASOTA, Fla. (WWSB) - Some much needed rain has fallen across parts of the Suncoast over the past couple of days. Those rain chances will be going down as some drier air gets pushed into our area on Friday. This drier air will settle in through the weekend.
Look for mostly sunny skies on Friday with breezy conditions at times. Those winds will be out of the NE at 10-15 mph. The rain chance goes down to 20% for a few late day showers that's it.
It should be a really nice weekend with little or no chance for rain on Saturday and only going slightly higher on Sunday. We will have mostly sunny skies with a 10% chance for an isolated shower on Saturday and a 30% chance for a late day shower or two on Sunday.
Tropical moisture will slowly come back to start the work week and our rain chances going up to 40% on Monday with mostly sunny skies throughout much of the day. For the rest of the work week expect to see mostly sunny skies with skies becoming partly cloudy during the afternoon with a good chance for a few late day storms.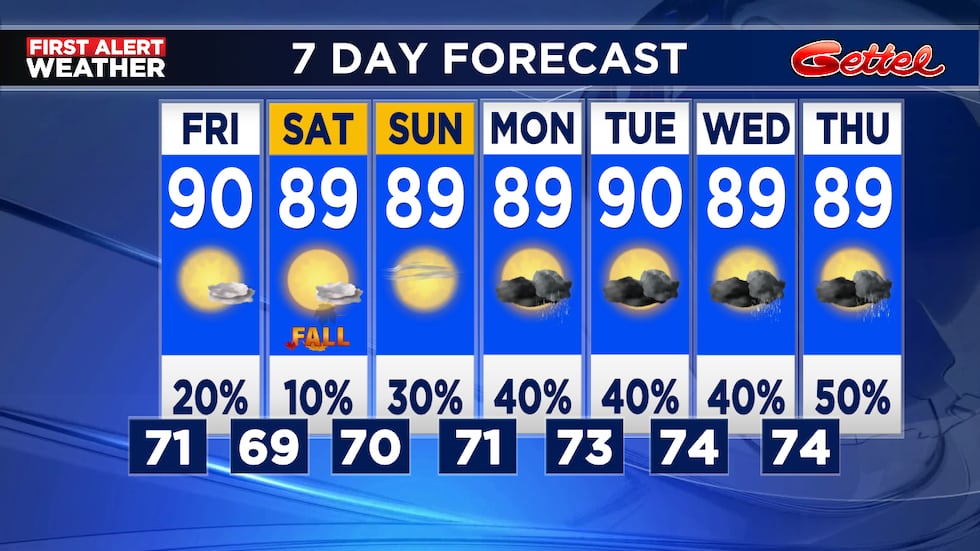 Tropical storm warnings are now up for potential tropical cyclone #16. This storm is expected to develop into a tropical storm late Friday as it moves north toward the Carolina coast. It doesn't appear that it will be a hurricane but a strong tropical storm is possible as it make landfall early Saturday morning into the N. Carolina coast. It will bring some heavy rain for S. Carolina through New York over the weekend and into early next week.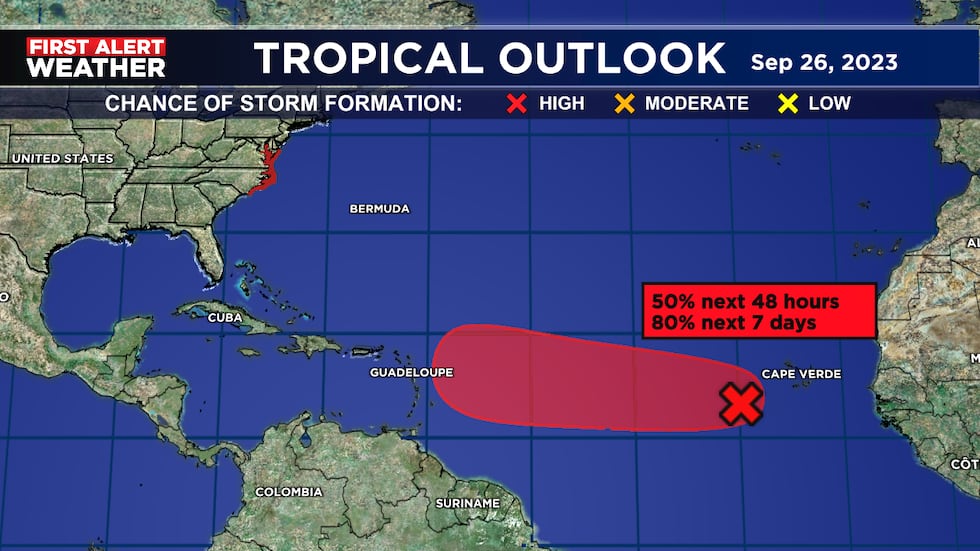 We are monitoring another area of concern out in the east central Atlantic. It has a really good chance of becoming a tropical storm over the next few days as it heads to the west at 15 mph. Right now it is too early if it will have a direct impact on the NE Leeward Islands in the Caribbean but models have been trending to a miss to the northeast of the Islands right now.
Copyright 2023 WWSB. All rights reserved.