Potential Tropical Cyclone 16 Likely to Become Tropical Storm Ophelia
East Coast Storm Will Bring Drier Air and Fair Weather to Suncoast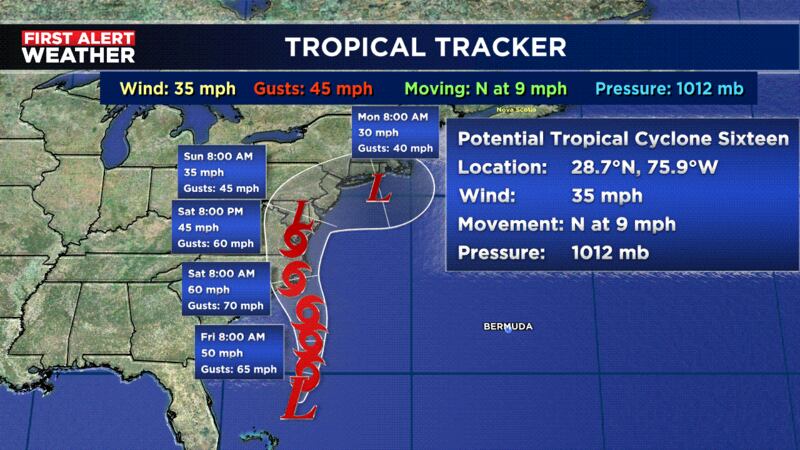 Published: Sep. 21, 2023 at 1:29 PM EDT
SARASOTA, Fla. (WWSB) - The National Hurricane Center has labeled the disturbance off the east coast of Florida, as Potential Tropical Cyclone 16. This low pressure system has a 60% chance of developing into a cyclone within two, and seven days. Because of its close proximity to the United States coast the NHC is giving extra notice about the potential for development. Currently it has sustained winds of 35 mph and is moving north at nine mph.
The models are in agreement that this will develop and move up the side of the east coast along the Carolinas, and northeast to New York. This movement will dump plenty of rain along the southeast coast to the mid-Atlantic coast. Tropical storm force winds, non-life threatening storm surge, heavy rain and high surf are expected. The east coast of South Carolina to Delaware is under a tropical storm warning.
Residents in these areas should watch for warnings that will likely continue through Saturday. Heavy rainfall could bring localized urban flooding and small stream flooding impacts from the Carolinas to New Jersey.
As the storm moves away it will pull in drier air behind it, creating fair and sunny conditions along the Suncoast for the weekend. Expect highs in the upper 80s, lower rain chances and plenty of sunshine to make for a gorgeous weekend.
Copyright 2023 WWSB. All rights reserved.