Husband named person of interest after skeletal remains identified as Sarasota woman
Woman's son has come forward to speak with investigators
Published: Aug. 3, 2023 at 5:17 PM EDT
SARASOTA, Fla. (WWSB) - Sarasota County Sheriff's officials say that the man whose wife's skeletal remains were found in 2007 is now a person of interest in the case.
The sheriff's office is seeking information from anyone familiar with the victim, Jeana Burrus, or her husband, James Burrus. Skeletal remains found in 2007 have been positively identified as belonging to Jeana.
She was was never reported missing.
On February 6th, 2007, the skeletal remains of a female were discovered buried in a shallow grave in a wooded area of Ashton Court in Sarasota. The investigation into the circumstances surrounding the death remained cold until November of 2022. That's when the sheriff's office began working in conjunction with DNA Labs International Inc. to use current advancements in DNA testing and genetic genealogy to positively identify Jeana.
Jeana Lynn Burrus was determined to be 39 years old at the time of her death. She resided in the 6200 block of Pauline Avenue in Sarasota with her husband and son, James Burrus, Jr. Jeana was unemployed. Her husband was employed at a local body shop in the 5600 block of Sarah Avenue in Sarasota. Her son attended Gulf Gate Elementary School during the 2005 and 2006 academic year.
Investigators told ABC7′s that James Burrus' versions of events has changed every time they have spoken with him. They also confirm that James Burrus Jr., the couple's son, came forward to say he had been told that his mother had abandoned the family.
The investigation into Jeana's death was further complicated as she was never reported missing by family, and her whereabouts had not been questioned. The couple resided in Citrus County, Florida and Frederick, Maryland, prior to relocating to Sarasota County. After they left Sarasota, James Burrus Sr. moved to California before returning to Maryland where he currently resides.
"We know he abruptly left Sarasota and moved to California. He was there for a short time and we believe there was a crime stoppers report submitted to the media around that time relating to this case. Then he abruptly left California and went back to Maryland," said Det. Mark Lefebvre of the Sarasota County Sheriff's Office.
The SCSO is asking anyone who may have known either Jeana or James Burrus or has information regarding her death to contact SCSO Detective Brian Ng at 941.861.4900.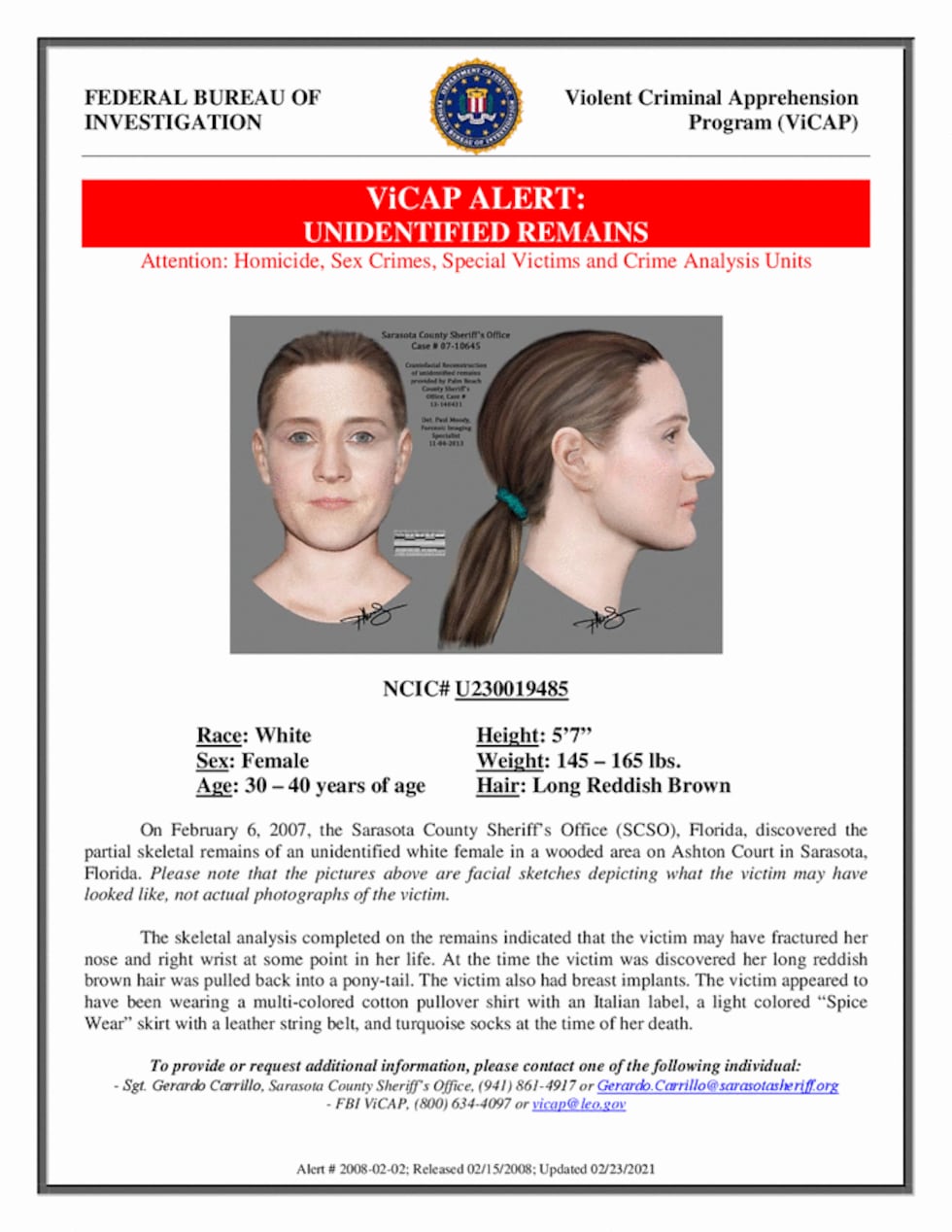 Copyright 2023 WWSB. All rights reserved.