PGT Innovations unveils new showroom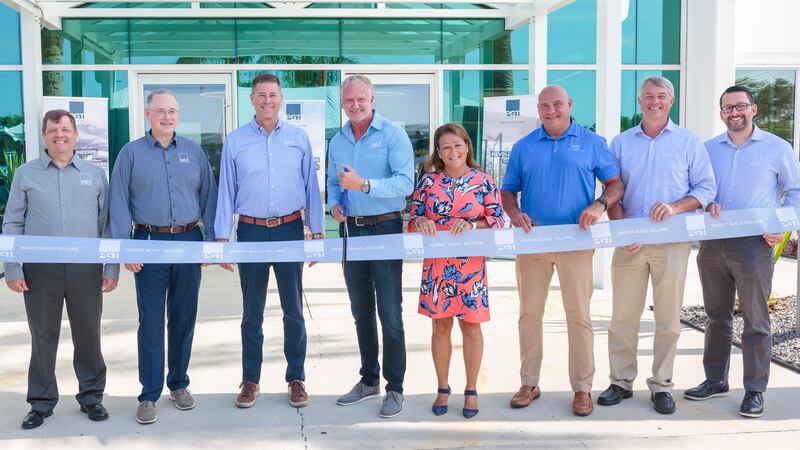 Published: Jun. 22, 2023 at 11:05 AM EDT
VENICE, Fla. (WWSB) - PGT Innovations, a national leader in the premium window, door, and garage door industry, unveiled its new corporate showroom this week, celebrating the event with a ribbon-cutting ceremony.
Located at the company's corporate headquarters in North Venice, Fla., the new 2,400-square-foot showroom serves as an immersive experience that utilizes vignettes of various rooms in a home — a kitchen, office, and living room — to demonstrate how products from the company's multiple brands look, feel, and function in a real-life environment. PGT Innovations dealers and other building industry partners will be able to use the space as an extension of their own showrooms and introduce homeowners to premium products from across the PGT Innovations family of brands, as well as the company's new innovations.
The new showroom and lobby renovation features more than 15 products from many of the manufacturer's family of brands, as well as groundbreaking, next-generation glass technology resulting from recent collaborations with Corning Incorporated, and products with Dynamic Glass, which can shift between translucent and opaque with the touch of a button.
"As we proudly unveil our new corporate showroom, we also celebrate the strong roots our company's founders planted in Venice, which have deepened and flourished over the decades we've been a part of this remarkable community," said Jeff Jackson, President and CEO of PGT Innovations. "This showroom stands as a symbol of our unwavering commitment to continue growing both as a business and a member of the Venice community. It also represents the fusion of our strategic goal of customer-centric innovation and our belief in the power of partnerships. Together, we will continue to drive progress, growth, and shared success."
A ribbon-cutting ceremony was held on Monday, June 19 to commemorate the occasion. Dealers, architects, and builders heard from Jeff Jackson, along with Debbie LaPinska, Senior Vice President and Chief Customer Officer of PGT Innovations.
"We recognize that our connection with our dealers, architects, and builders is not merely transactional, but rather a true partnership," said Debbie LaPinska. "We envision this space as a hub of collaboration, where ideas can be exchanged, and we can continue delivering on our commitment of understanding the unmet needs of the market and finding solutions for them. We are excited about the opportunities this showroom will bring and the prospects of strengthening our bonds with our industry business partners."
The general contractor for the project was Venice-based JE Charlotte Construction, and the architect was G Todd Yeomans of Sarasota-based Yeomans Work Architecture, Inc.
After the ribbon-cutting ceremony, attendees had the opportunity to tour the new corporate showroom, view an impact test demonstration, and visit the 24,500-square-foot iLab, an innovative extension of PGT Innovations that serves as a product incubator and micro-factory.
To ensure the best experience, the showroom is available for customers to visit by appointment only. Customers can go to PGTInnovations.com to find a dealer in their area and schedule an appointment.
Copyright 2023 WWSB. All rights reserved.