Crews work to repair sinkhole threatening Ocala businesses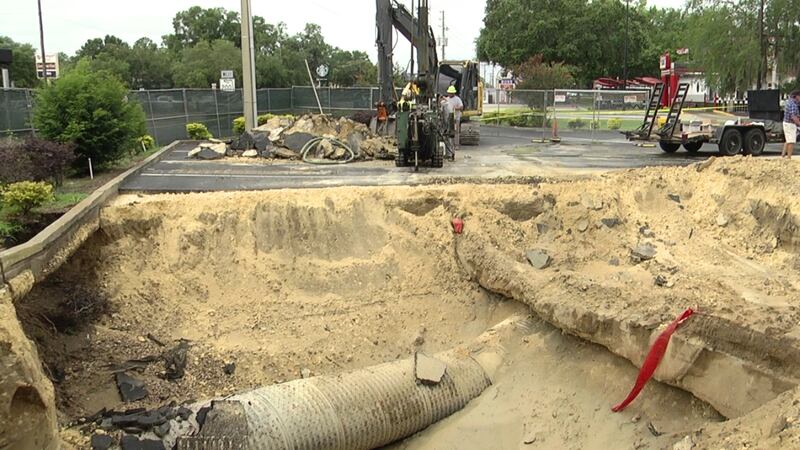 Published: May. 26, 2023 at 2:18 PM EDT
OCALA, Fla. (WCJB) - Crews worked on Friday to prevent a sinkhole in Ocala from spreading to a neighboring business or a major roadway.
The sinkhole opened up last Saturday in the parking lot of Gaitway Plaza near Southwest College Road, also known as State Road 200. The general contractor in charge of repairs Dwight Smith, who is the president of D&D Smith Constructors, says a storm drain under the parking lot failed which allowed water to leak out of the pipe.
A fence was put up around the hole. On Friday, crews bored around the sinkhole as geotechnical engineers assessed the area.
"We are doing the second day of boring," explained Smith. "We are going to test all of our ground around the sinkhole is stable before we can start putting it back."
RELATED: 'They need to get it fixed': Sinkhole prevents shoppers from entering Ocala business
He expects the repairs to take three to four weeks dependent on weather and geological tests. Businesses near the parking lot are temporarily closed as repairs continue.
"We beveled it up like a swimming pool towards the Vitamine Shoppe and even with the rains, no water is intruding. Even towards State Road 200, the bank has stayed firm since Saturday the 20th."
Smith explains sinkholes have happened in area before. He says the drainage pipe on the property is prone to failure.
"We really don't know if it is the type of pipe, we don't use that type anymore. So, this pipe gave way. It could happen again. It has been 40 years from the 80s to 2023."
In 2017, a sinkhole opened in the parking lot of Shady Oaks Shopping Center, across the road from the new sinkhole. The sinkhole swallowed a car. Smith says he doesn't know if it was another pipe issue or a "real" sinkhole coming up from the Florida Aquifer.
Click here to subscribe to our newsletter.
Copyright 2023 WCJB. All rights reserved.