Bartow couple charged after 'bone-chilling' death of 3-year-old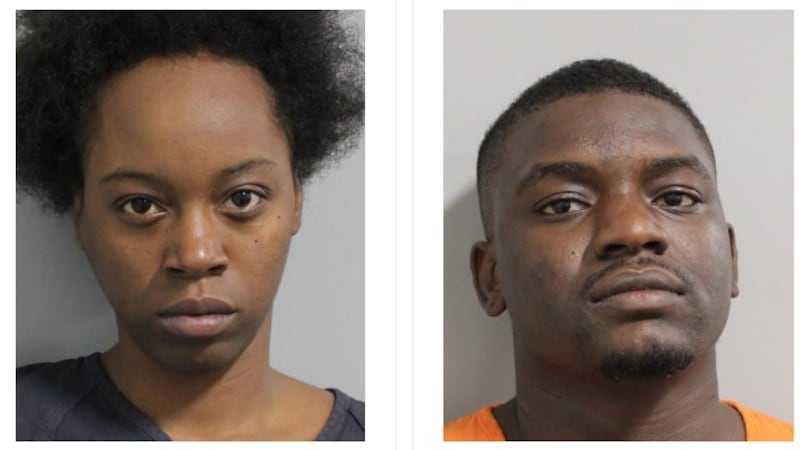 Published: May. 26, 2023 at 11:37 AM EDT
BARTOW, Fla. (WWSB) - Two people are in custody after a child in their care died earlier this month.
According to a release from the Polk County Sheriff's Office, Takesha Williams, 24, and Efrem Allen, Jr., 25, have been charged for the death of the toddler.
On May 12, law enforcement and first responders arrived at a residence in Bartow for a report of a three-year-old who did not have a pulse. When emergency responders arrived, they found the boy hooked to a ventilator breathing machine. The child was taken to an area hospital where he died. They discovered the child had numerous injuries, a bloated stomach and open sores that smelled of decomposition. The child had a previous near drowning incident resulting in medical issues.
A home health nurse who had formerly cared for the child said the injuries the child had suffered were after she stopped coming to the home after switching companies. The nurse had tried to instruct the parents how to care for the child. Detectives interviewed the couple separately and they both said they knew that DCF would be notified due to the condition of the child's bed sores.
During the night of Thursday, May 11, 2023, the decedent appeared to be alive, per Takesha Williams and Efrem Allen Jr. and the pulse oximeter was functioning. During the morning of Friday, May 12, 2023, Tekesha Williams and Efrem Allen Jr. noticed the decedent's stomach was bloated. Tekesha Williams noticed the decedent was cold to the touch and the pulse oximeter was malfunctioning. Tekesha Williams waited until 3 p.m. to call 911. Both, Takesha Williams and Efrem Allen Jr., advised they knew they should have contacted a health care professional based on the declining health of the decedent in the past month; however, they failed to do so.
The couple was arrested on May 13 for negligent child abuse causing great harm. After his death the charges were upgraded to aggravated manslaughter of a child.
Polk County Sheriff Grady Judd said it was a horrific crime.
"I've seen some truly horrific events in my long law enforcement career, but I have never, ever seen anything as sad, as bone-chilling, and as sickening as what this baby suffered before finally perishing from the despicable acts of these two criminals," said Judd.
The two remain in the Polk County Detention Center.
Copyright 2023 WWSB. All rights reserved.