Sargassum Seaweed – How will it affect our Suncoast Beaches?
Published: May. 25, 2023 at 11:12 AM EDT
SARASOTA, Fla. (WWSB) - The headlines are ominous and frightening. Sargassum seaweed is hitting Florida. But what parts of Florida? Scientists at NOAA and University of South Florida have developed new computer models, using the water currents in the Caribbean and the Gulf of Mexico, to predict the areas at greatest risk of sargassum hitting their beaches.
We have seaweed on the Suncoast but it is not sargassum. Sargassum is a different type of brown macroalgae that has lived in the Atlantic for years. Columbus first sailed through it and named it "sargassum", which translates as "seaweed". He named the area the Sargasso Sea. It's an important habitat for sea life. Parts of the algae broke off from the Sargasso Sea and set up around the Caribbean.
Dr. Michael Crosby at Mote Marine in Sarasota described this new problem in tourist zones.
"Over the last couple of decades", said Crosby, "It established basically a Caribbean sargassum belt that exists down there that is now really problematic in the Caribbean Islands for some time now, washing up on beaches. And there's actually a chunk of that, that has spun off and has come up and sits off the coast of Texas as well, a smaller chunk".
Sargassum moves where ocean currents push it. NOAA and USF have created a map of the risk of getting sargassum based on those currents. The areas at high risk of getting sargassum are highlighted in red. The loop current in the Gulf of Mexico is beneficial to the Suncoast. It does push the seaweed into the gulf. Then it moves south toward Cuba and the Florida Keys, then north toward the beaches of eastern Florida. East Florida beaches have been downgraded to a medium risk. Low risk areas, like most of western Florida beaches, are shown in blue.
So, should we add sargassum to our list of things to worry about? According to Dr. Collins – No.
"I don't think here in southwest Florida, a mass of sargassum washing up on our beaches is something that we need to be overly concerned about. In the Florida Keys. Yes. In southeast Florida. Yes. In the Caribbean Islands. Yes."
Sargassum seaweed blooms usually peak in June or July. But even at the peak, the risk of sargassum hitting Suncoast beaches is Low.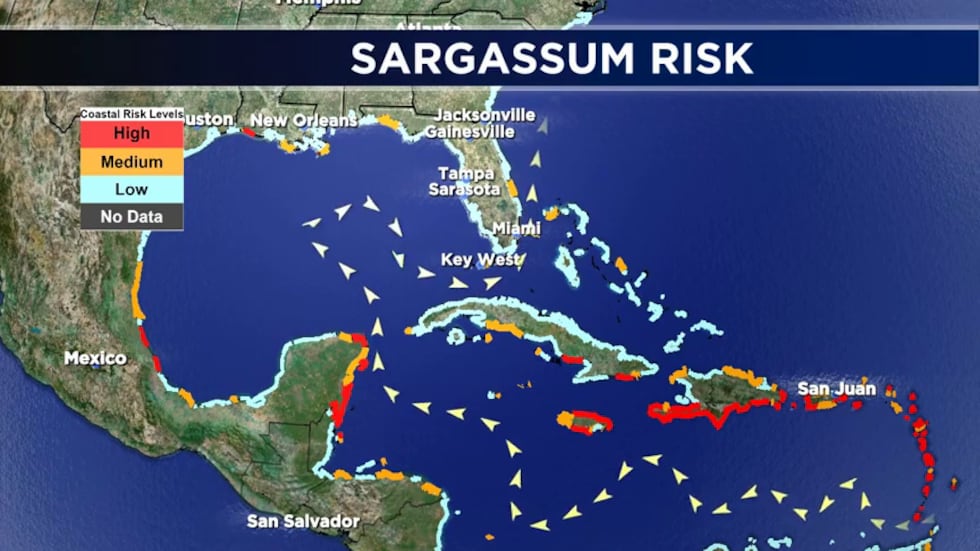 Copyright 2023 WWSB. All rights reserved.