Sarasota County receives $14.5 million grant for Alligator Creek restoration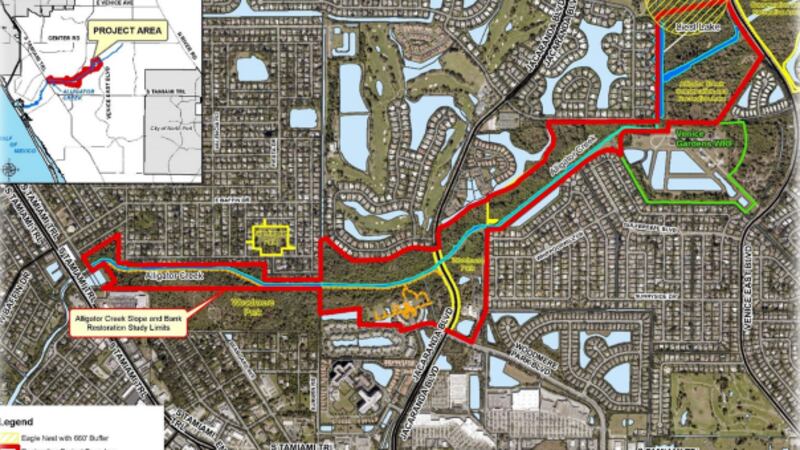 Published: May. 22, 2023 at 11:47 AM EDT
SARASOTA, Fla. (WWSB) - Sarasota County is receiving a $14.5 million grant from the National Oceanic and Atmospheric Administration for the Alligator Creek Stream Restoration Project.
The grant money will go to improve water quality as the County Commissioners will work to allocate the funds.
Alligator Creek is an essential 11-square-mile tidal creek that serves as an urbanized drainage basin, flowing into Lemon Bay and is responsible for more than 20% of the water drainage. Historical nutrient loading and hydrologic changes in the 1940s, such as deep excavation and channelization, disrupted the natural water flow and reduced the creek's connection to the floodplain and nearby wetlands. This, in combination with the creek's steep-sided banks causing erosion and sedimentation, has degraded crucial benthic and fish habitats. Additionally, invasive vegetation and bank erosion have impacted the vitality of marine life, birds, and native animals that rely on the ecology and salinity of Alligator Creek. It's also the home of some endangered species.
The project will also focus on removing stream barriers to increase access to low-salinity habitats, which is important for fish nurseries. It also provides a safe environment for fish species when high levels of red tide are present.
The County Commission is working with Mote Marine Laboratory and Aquarium. Mote is monitoring and sampling key fish species such as snook, tarpon, and red drum.
Mote has also implemented technology to track fish movements, growth, and survival, by implanting a passive integrated transponder tag prior to releasing them back to where they were collected. Further downstream, a solar-powered detection station picks up a signal from the PIT tags when a fish swims over it, allowing Mote scientists to collect data to learn more about fish habitat use, directional migration patterns, and survival rates for different species, sizes, and life stages.
"We're proud to continue working with our partners at Sarasota County on restoring Alligator Creek," said Ryan Schloesser, program manager of the Fisheries Ecology and Enhancement Program at Mote. "Mote's main goal in this project is to monitor the health of the creek's fish population before and after the restoration efforts, which will help us understand how well the creek can support fish in its current state, and we expect the data we collect to show that the restoration provided a more productive habitat for the long-term health of these fish populations."
Copyright 2023 WWSB. All rights reserved.