Weekend looks warm and fairly dry
Better chance for some much needed rain next week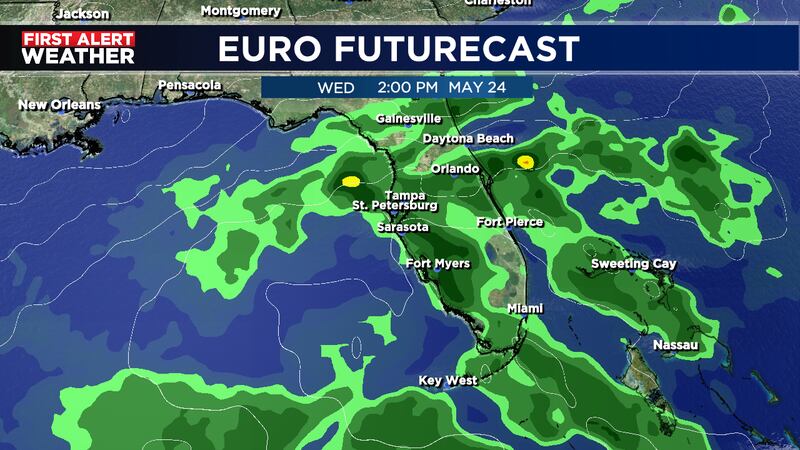 Published: May. 20, 2023 at 12:13 AM EDT
SARASOTA, Fla. (WWSB) - We will see only a slight chance for a few mainly inland storms over the weekend as the sea breeze moves well inland during the afternoon hours. Highs will be in the mid to upper 80s near the beaches and low 90s elsewhere under mostly sunny skies to start the day both Saturday and Sunday.
The heat index or "feels like" temperatures will be in the low to mid 90s for most everyone during the early afternoon through 5 p.m. Winds will be out of the west at 5-10 mph.
On Monday we will slowly transition into a more productive pattern for some much needed rain, but it will take about 24 hours. So there is a 40% chance for scattered storms but that will be mainly inland again but getting a bit closer to the coast. The rain chance is at 20% for the coast late in the day.
Tuesday we will see a 40% chance for scattered late day storms throughout the late afternoon through the evening. We will see a few more of those storms finally push move toward the beaches late in the day. This is a result of east to southeasterly winds becoming more prevalent during the morning and early afternoon.
Rain chances stay elevated through Thursday of next week.
Copyright 2023 WWSB. All rights reserved.