Sarasota holds Annual Spring Craft Fair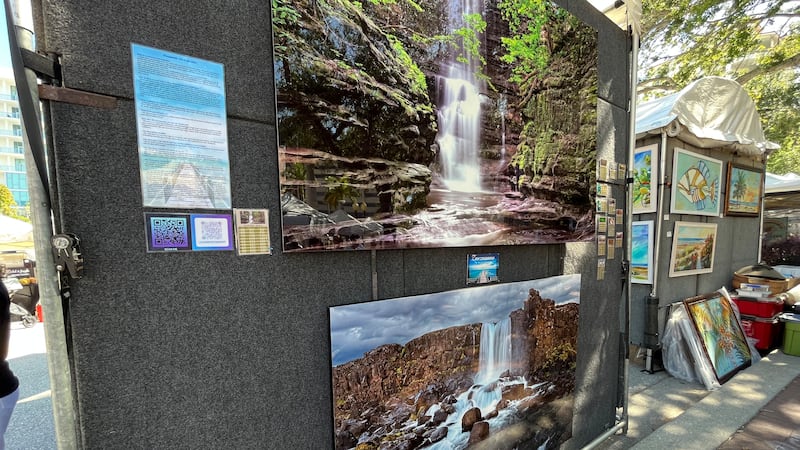 Published: May. 7, 2023 at 3:29 PM EDT
SARASOTA, Fla. (WWSB) - The 3rd Annual Downtown Sarasota Spring Craft Fair kicked off on Saturday, May 6 through Sunday, May 7. It brought out hundreds of Suncoast residents to see everything from paintings and photography to pottery and jewelry.
A research study conducted by the University of Vienna during the first wave of the COVID-19 pandemic stated that viewing art online became more common. The study stated that there are decades of research on the positive effects of viewing art for a person's wellbeing. According to the study, they found even brief viewings had significant effects in lowering negative moods, anxiety and loneliness.
Rasa Saldaitis is a painter from St. Petersburg who showed off her work at the craft fair. She said that art is more than something to hang on walls.
"It's like medicine, like healthy food, like healthy relationships and art is a necessity for humankind," Saldaitis shared.
One Suncoast resident visiting the fair, Kim Reiter, is a regular customer of Saldaitis. She explained why she feels that art is powerful, especially Saldaitis'.
"Happy! They make me absolutely happy. All of her work does. It has so much beautiful color in it, and it really does enrich my life," said Reiter.
Mike Luciano and his wife own Zsuzsanna Conservation Photography they also had a booth at the fair. Luciano explained even though the effects may be the same, online viewing will never compare to in-person.
"People want more of an interactive experience. I mean we're not too far from Disney World, and people want to be immersed in what they are doing. They don't just only want to see it online. If you only had Disney world online it wouldn't be the same, it's just, you got to be there, you got to touch it, you got to experience it," explained Luciano.
The study stated the next step should be looking at the application of art in hospitals or even waiting rooms.
Copyright 2023 WWSB. All rights reserved.