DeSantis signs death penalty, crime bills as 2024 run looms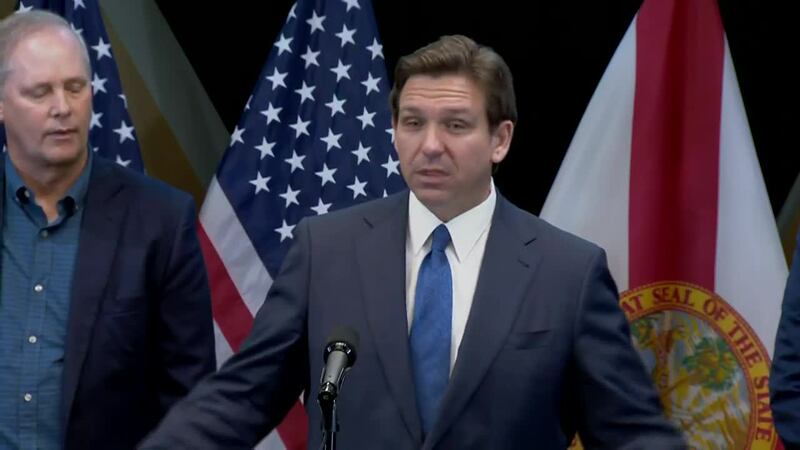 Published: May. 2, 2023 at 6:46 AM EDT
TALLAHASSEE, Fla. (AP) — Florida Gov. Ron DeSantis on Monday signed a bill allowing the death penalty in child rape convictions, despite a U.S. Supreme Court ruling that banned capital punishment in such cases.
DeSantis, a Republican, also signed two other components of his criminal justice legislative package during a ceremony at a policing museum in a city outside Orlando.
The governor, who is expected to announce a run for president in the coming weeks, has leaned into an aggressive conservative agenda on crime and other issues ahead of his expected candidacy as he seeks to bolster support among the Republican base.
The signings came as DeSantis has faced widespread criticism over his battle with Disney and marked his first appearance after an overseas trade mission, with the routinely on-message governor returning to practiced rhetoric about his ability to implement conservative policy.
"We're really delivering a big agenda," he said. "So this is one important — but admittedly very small part — of an overall large agenda and very bold agenda that's really setting the terms of the debate for the country, quite frankly."
The death penalty law DeSantis signed is intended to get the conservative-controlled U.S. Supreme Court to reconsider a 2008 ruling that found it unconstitutional to use capital punishment in child sexual battery cases.
Florida is among a handful of states with existing laws that allow for capital punishment on child rape convictions but has not used the punishment given the high court ruling. The Florida Supreme Court has also ruled against the use of capital punishment in sexual battery convictions.
The legislation, which goes into effect Oct. 1, would authorize the state to pursue capital punishment when an adult is convicted of sexually battering a child under 12 and provides a framework in the state's capital punishment laws for prosecutors to do so. It was approved in the Florida Legislature with bipartisan support.
DeSantis said he believed the the Supreme Court's decision was "wrong," adding, "This bill sets up a procedure to be able to challenge that precedent and to be able to say that in Florida we think that the worst of the worst crimes deserve the worst of the worst punishment."
Late last month, DeSantis also signed a bill to end a unanimous jury requirement in death penalty sentencing, allowing capital punishment with jury recommendation of at least 8-4 in favor of execution.
The governor on Wednesday also signed into law a bill to enhance criminal penalties around the selling of fentanyl and fentanyl analogs that are packaged or disguised in the form of candy or other food products.
The third bill DeSantis signed requires the Florida Supreme Court to develop a uniform bond schedule for state courts to follow and bars a chief judge from setting bond below the schedule. It also forbids a person from being released before his or her first court appearance if charged with a violent or heinous crime. The law is part of DeSantis' criticism of so-called bail reforms in liberal jurisdictions.
The Republican supermajority in the Florida statehouse has focused heavily on the governor's legislative priorities this year, with DeSantis expected to use the raft of new conservative laws as the foundation for his 2024 presidential run.
Copyright 2023 WWSB. All rights reserved.