10th Annual WOW Ride helps raise fund for Selah Freedom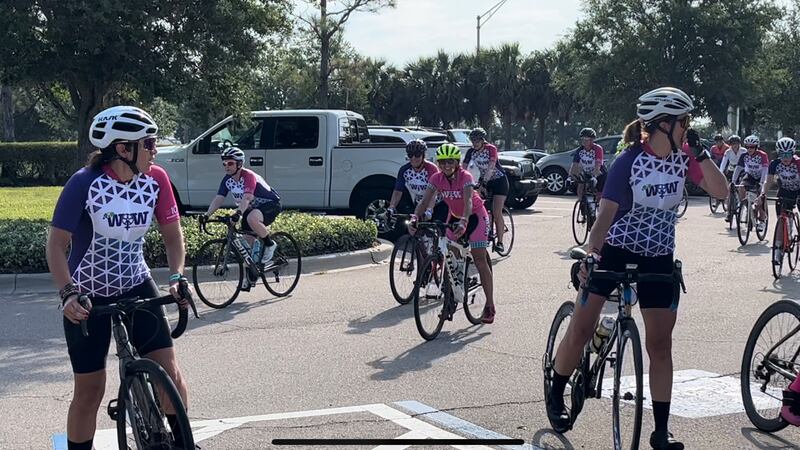 Published: Apr. 16, 2023 at 4:23 PM EDT
LAKEWOOD RANCH, Fla. (WWSB) – The 10th annual WOW Ride kicked off Sat. April 16 on Main Street in Lakewood Ranch, with all the funds raised benefitting Selah Freedom.
Selah Freedom is a non-profit with a mission of bringing awareness to sex trafficking and ending it.
According to Village Idiots Cycling Club member Lisa Michel, they raised $10,000 for the non-profit last year and it was the first year they donated to Selah Freedom.
Michel added that the WOW ride is exclusively for women, and they donate to women's charities like Selah Freedom because of their mission.
"It's a very important topic and it happens everywhere, and especially here in our Sarasota area and we want to bring attention to that," said Michel.
Brenda McGowan, the awareness and development manager for Selah Freedom, explained that sex trafficking is one of the worst forms of human slavery.
"The average age they get lured in is 12 to 14 years old and so, often it can start as a Romeo pimp situation and the next thing you know they have a quota and then they are punished if they don't meet it," said McGowan. "They get sold anywhere from 15 to 40 times in a single 24-hour period."
According to Selah Freedom's website, traffickers are making up to $1.6 million a year from their victims, and the industry itself is worth $99 billion.
"Everybody thinks that it happens internationally but it's actually, Florida's the top third state in the country that it happens, and it's been reported in almost every single zip code," explained McGowan. "So, this is happening in your own backyard. Students with a 4.0 GPA. It's not just runaways and migrants moving here, a majority are U.S. citizens."
Selah Freedom needs to raise over $1.5 million additional funds, outside of grants, to keep programs running, according to McGowan.
She also explained they have a success rate of almost 87 percent.
Copyright 2023 WWSB. All rights reserved.