Family: QB Haskins was drugged, robbed before he was fatally struck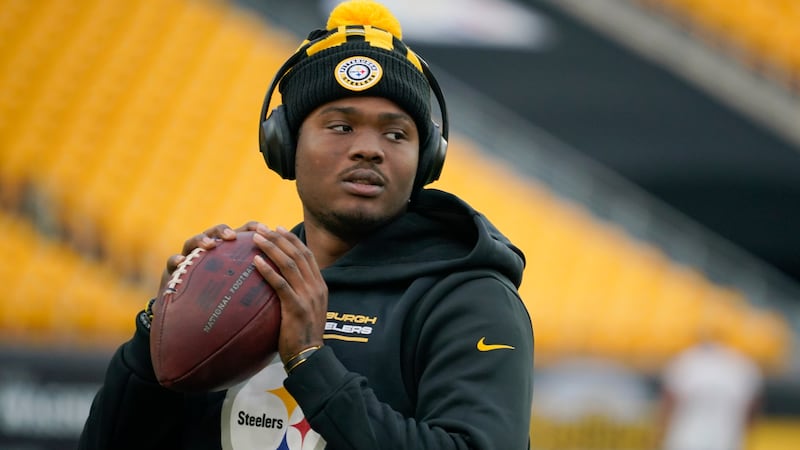 Published: Apr. 11, 2023 at 7:42 AM EDT
FORT LAUDERDALE, Fla. (AP) — The family of deceased Pittsburgh Steelers quarterback Dwayne Haskins has filed a lawsuit against several people, businesses and the state of Florida, claiming he was drugged, robbed and extorted before he was fatally struck while standing drunk on a highway after running out of gas.
The lawsuit, filed recently in Fort Lauderdale, alleges the former Ohio State star was drugged and robbed by a man and three women in the hours before the April 9, 2022, accident. They say it happened at a Boca Raton hotel, at an upscale golf driving range, a bar and a nightclub. The lawsuit does not give any specifics. Haskins, 24, had been in South Florida for offseason workouts with Steelers teammates when the accident happened.
The lawsuit, filed on behalf of his widow and parents, also names the driver and owner of the dump truck that struck him, saying it was exceeding the speed limit, had worn tires and brakes and was overloaded.
It says the pickup truck Haskins had rented had a mechanical defect that caused it to run out of gas. The family also alleges that the state highway department didn't properly maintain and light the road, or post a lower speed limit while construction work was being done. They say a temporary sign blocked visibility on the highway.
Family attorney Rick Ellsley said in a statement that the lawsuit will allow him to subpoena documents and question those who were with Haskins as part of "the process of uncovering the complete truth about this tragedy."
"As to what occurred in the hours before Dwayne was killed, many questions remain unanswered. It is believed that Dwayne was targeted and drugged as part of a blackmail and robbery conspiracy. In fact, his highly-expensive watch was stolen from him shortly before his death," Ellsley said in a statement. He declined to answer specific questions about the lawsuit's allegations.
The Associated Press is not naming the individuals and businesses Haskins' family are suing because no criminal charges have been filed against any of them and there is nothing yet filed in court substantiating any of the claims.
According to a death report issued in May by the Broward County Medical Examiner's Office, a woman Haskins was with told investigators they had run out of gas on Interstate 595 near Fort Lauderdale-Hollywood International Airport shortly before dawn. She said he went out in the dark to get more fuel.
Witnesses told the Florida Highway Patrol that Haskins was trying to wave down cars and standing in the center lane when he was hit by the truck and then an SUV. The report said he died of blunt force trauma.
Haskins' blood-alcohol content was 0.20, according to his autopsy. That's 2.5 times the 0.08 legal limit for driving in the state.
According to the University of California, Davis, and other universities, someone of Haskins' weight, 230 pounds (104 kilograms), would have needed at least 10 drinks in the hours before his death to reach that level. He also had the strong painkiller ketamine and its metabolite norketamine in his system. The drug can be prescribed by a doctor, but can also be abused recreationally. The report did not say whether drug had been prescribed.
Haskins starred at Ohio State in 2018, setting several school passing records and being named the MVP in both the Big Ten Championship game and in the Buckeyes' Rose Bowl win over the Washington Huskies.
A 2019 first-round NFL draft pick by Washington, Haskins was released by the team after going 3-10 over two seasons. He was signed for the 2021 season by Pittsburgh as a backup quarterback, but he didn't appear in a game.
Copyright 2023 WWSB. All rights reserved.