AMBER alert issued for St. Pete child, child's mother found dead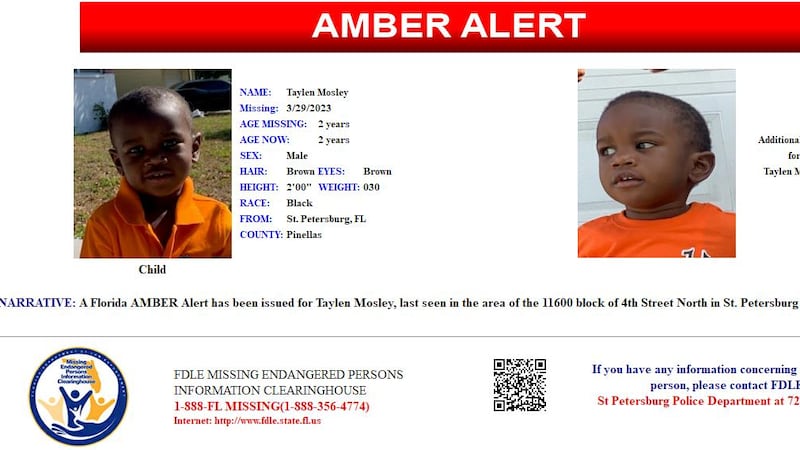 Published: Mar. 30, 2023 at 5:48 PM EDT
SARASOTA, Fla. (WWSB) - An AMBER alert has been issued this evening for Taylen Mosley, a 2-year-old child in St. Petersburg, FL.
He was last seen in the area of the 11600 block of 4th St. N. and went missing Wednesday. St. Petersburg Police detectives say this situation is connected with a homicide at the Lincoln Shores Apts., 11601 4th Street North. About 2:30 p.m., the body of a 20 year old woman, Pashun Jeffery was found insider her apartment at Lincoln Shores.
Taylen Mosley is the victim's son. The child could be in danger and a search is underway for his whereabouts. If anyone has information, contact St. Petersburg Police .
He has brown hair, brown eyes, is 2 feet tall and weighs 30 pounds.
If you have any information concerning the whereabouts of this child in the Pinellas County area please contact FDLE or the St. Petersburg Police Department at 727-893-7780 or 911.
Copyright 2023 WWSB. All rights reserved.