Bradenton police chief cleared of wrongdoing in two latest misconduct probes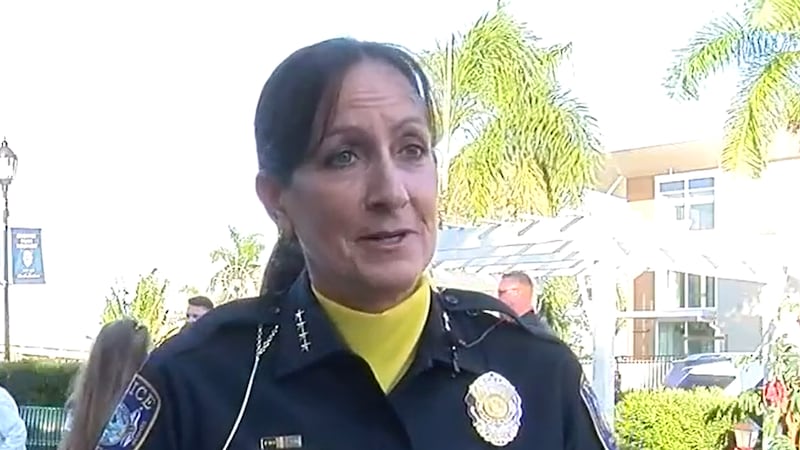 Published: Mar. 30, 2023 at 2:11 PM EDT
UPDATED with comments from union president.
BRADENTON, Fla. (WWSB) - Embattled Bradenton Police Chief Melanie Bevan has been cleared in two internal investigations into allegations of misconduct against her and her top commanders, the department announced Thursday.
The police captain leading the investigation has also recommended that her accusers themselves be investigated for making false statements.
It is the third investigation in the last year involving Bevan. In September, Bevan was cleared following accusations by another officer that she conducted an illegal search of a residence during an arrest in July.
Bevan, in a written statement Thursday, discredited the officers making the allegations, noting that four members of a special unit at the focus of the complaints are no longer with the department, either resigning or fired for lying. "These officers failed to uphold the oath they took then they were sworn in as police officers," Bevan said.
"I won't allow the negativity and inappropriate actions of a few, now former, officers to continue to tarnish the great reputation of the men and women who serve the citizens of Bradenton."
Bevan also suggested the allegations were orchestrated by the Southwest Florida Police Benevolent Association. "It should be noted that these affidavits were obtained and released during contentious contract negotiations between the Union and the City over salary and benefits," she said. "I firmly believe these affidavits were used as a distraction to gain the upper hand in these negotiations.
"The investigations are over. We are moving on from this," Bevan wrote.
Association president Mick McHale fired back Thursday, hinting that more changes may be coming. "The PBA has a long list of members who will continue to come forward and expose the Chief's abuse of power through litigation and incontrovertible evidence," he said in a statement.
McHale also decried the firing today of Patrick Mahoney, one of the officers who alleged wrongdoing. "Sadly, Chief Bevan doesn't believe the Constitution matters, as evidenced by today's firing of Officer Mahoney, which is nothing short of retaliation."
The latest investigations
In August, the union representing rank-and-file officers, made public signed affidavits by three officers, including a senior lieutenant and a veteran sergeant, accusing Bevan and other top officers of misconduct, including suggesting that detectives harass a suspect in order to crack a 20-year-old cold case, and of allowing Internal Affairs to violate the rights of officers.
Also, Bevan was accused of conspiring to steal a personal cell phone to cover up an affair between a senior officer and a married dispatcher who took her own life after the affair came to light.
One of the officers, Patrick Mahoney, claims after he signed the sworn affidavit, he was transferred from narcotics division to road patrol; was denied a promotion to detective; denied overtime pay and placed under an internal investigation and placed on administrative leave for allegedly lying in his affidavit.
He has filed a separate civil suit against Bevan and the department, claiming his First and 14th Amendment rights were violated; and the retribution he suffered is a violation of the Public Whistleblowers Act.
Bradenton Mayor Gene Brown selected North Port Police Capt. Brian Gregory to investigate the latest allegations. In the summary of the latest investigations, Gregory concludes Mahoney lied about the alleged incidents. "It was determined that allegations in Officer Patrick Mahoney's sworn affidavit, which was released publicly ... conflicted with witness statements, BPD records and FDLE records."
"There appears to be a consistent pattern with Mahoney alleging, under oath, incidents that never occurred," he wrote. "This has been detailed in sworn testimony by several witnesses throughout the investigation."
Gregory further recommends that Mahoney be investigated "regarding potential BPD policy violations and violations surrounding untruthfulness."
'Absence of credible evidence'
Another allegation came from Bradenton Police Sgt. Joseph Kelly, who suspected his wife, Eva, a police dispatcher, was having an affair with then-Deputy Chief Paul McWade.
Kelly resigned her job in 2019. On Dec. 2, 2019, she took her own life at her home in Manatee County, while her husband was working the night shift.
In his affidavit, he alleged Bevan and her command staff of conspiring to secure Eva Kelly's cell phone without her grieving husband's knowledge.
"It is incomprehensible to learn now that BPD was paying officers to spy on me and directing them to steal my property under the guise of compassion and sympathy," Joseph Kelly wrote.
In his conclusions, Gregory dismissed Kelly's story. "Due to the many quotes listed in Kelly's affidavit and the absence of credible evidence, there is suspicion that Kelly may have improperly quoted individuals in his sworn affidavit," Gregory wrote. "These facts should be properly investigated to determine if there are any BPD administrative or criminal violations."
Throughout the summary of findings, Gregory repeatedly used the phrase "There was no evidence or sworn testimony from witnesses supporting the allegations," in dismissing the officers' testimony.
Besides Mahoney and Kelly, Gregory also recommended another complainant, former Det. Christopher Capdarest, be investigated "for potential criminal and/or an FDLE administrative hearing regarding untruthfulness in a sworn affidavit,' and noted that Lt. Shannon Seymour's testimony "causes concern of potential untruthfulness."
You can read the summary of the internal investigation's findings and Chief Bevan's statement below:
Copyright 2022 WWSB. All rights reserved.