Major road construction project on Holmes Beach coming to an end soon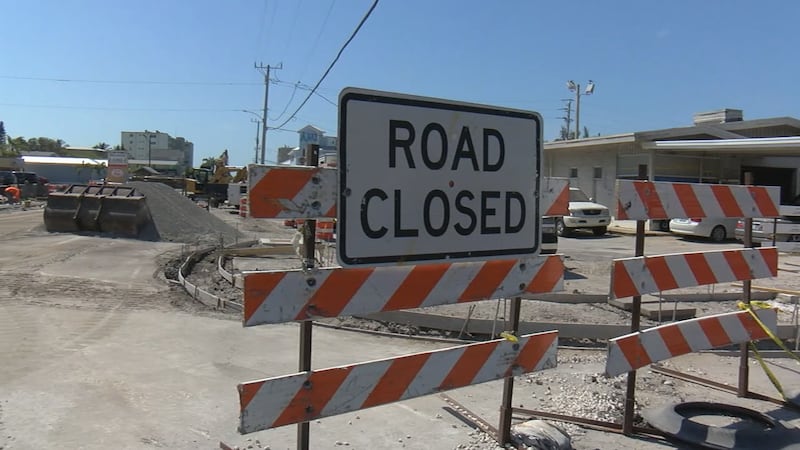 Published: Mar. 27, 2023 at 10:11 PM EDT
HOLMES BEACH, Fla. (WWSB) - Road construction is something residents, business owners and visitors have seen a lot of for six months as part of the City Center Project. Work continues on parts of Marina Drive and Gulf Drive, which are the main roads on Holmes Beach, improving the roads and making them safer and beautifying it as well.
"Improvement-wise, we have stormwater infrastructure 70-plus years old that we've had to replace and make better," said Sage Kamiya, Public Works Superintendent for the city of Holmes Beach. "That includes adding bike lanes, adding sidewalks, adding pedestrian crosswalks, adding infrastructure that is much needed."
Nanette Almeter is owner of Irene's Resort Wear. It's one of the businesses that has been in the middle of this construction and it's one of the oldest businesses on Anna Maria Island. Almeter says this has impacted her business and others. She is counting the days when this project is finally over.
"Part of what's been a strain is you keep hearing one more month, one more month and that month goes by," said Almeter. "But I have to say it's been trying, I'm getting so used to it because it's been many months now."
Almeter says despite the challenges with this construction project, she is thankful to her customers who have helped her business and others get through this.
"I have to be so grateful for how loyal they've been despite it all, because it could've been flat dead, so for them to find it anyway means a lot," said Almeter.
City officials say Gulf Drive is expected to reopen late next week. Marina Drive has reopened. The finishing touches of the project including lighting should be completed over the next few weeks.
"Just appreciate the community's patience with a very large project, I understand most people who are used to an age where you hit a button and everything goes away and gets fixed," said Kamiya. "Unfortunately with infrastructure and construction that takes a little bit of time, so I do know there has been a lot of patience from folks who have to travel through it."
Total cost of the project is around $3 million. Most of the money is coming from state and federal funds.
Copyright 2023 WWSB. All rights reserved.