Manhattan DA rejects GOP demand for info on Trump case
Published: Mar. 23, 2023 at 11:58 AM EDT
|
Updated: Mar. 23, 2023 at 12:13 PM EDT
WASHINGTON (AP) — The Manhattan district attorney investigating Donald Trump rebuffed House Republicans' request Thursday for documents and testimony about the case, dismissing it as an "unprecedented inquiry" with no legitimate basis.
In a letter obtained by The Associated Press, the general counsel for Manhattan District Attorney Alvin Bragg slammed the congressional request as "an unlawful incursion into New York's sovereignty."
"The Letter only came after Donald Trump created a false expectation that he would be arrested the next day and his lawyers reportedly urged you to intervene," Leslie Dubeck wrote in the letter. "Neither fact is a legitimate basis for congressional inquiry."
The Republican chairmen of three House committees on Monday sent a letter to Bragg seeking information about his actions in the Trump case. The Republicans criticized the grand jury investigation as an "unprecedented abuse of prosecutorial authority."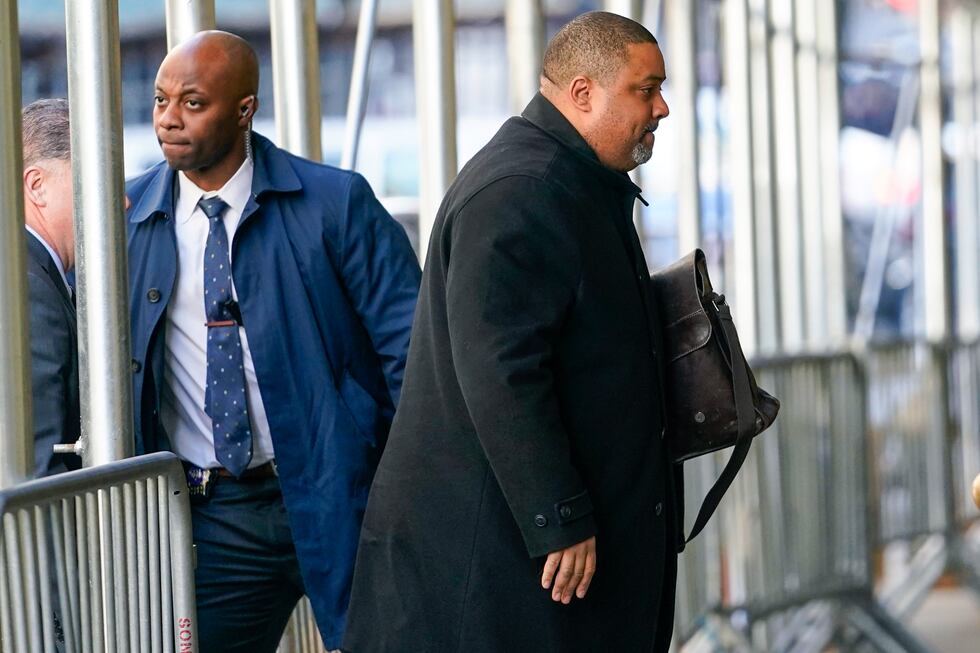 The chairmen requested testimony as well as documents and copies of any communications with the Justice Department to be turned over by Thursday. The request came as Republicans in the House quickly rallied around the former president as a grand jury in New York weighs whether to bring an indictment against him.
"If a grand jury brings charges against Donald Trump, the DA's Office will have an obligation, as in every case, to provide a significant amount of discovery from its files to the defendant so that he may prepare a defense," Dubeck wrote.
The five-page response from Bragg's office provides a rare insight into what has remained a secret grand jury process, marking one of the first public acknowledgments that there is a sitting grand jury currently investigating Trump. The DA's office has adhered closely to centuries-old rules that have kept grand juries under wraps to protect the reputations of people who end up not being charged and to encourage reluctant witnesses to testify.
In proceedings closed to the public and members of the media, grand jurors listen to evidence presented by prosecutors and hear from witnesses. There is no judge present nor anyone representing the accused, and prosecutors do not have to offer any evidence favorable to the defense.
The disclosure comes as the grand jury appears close to finishing its work, after hearing last week from Trump's former lawyer and fixer Michael Cohen, but the timing of a possible decision on whether to charge the ex-president remains uncertain. Prosecutors canceled a scheduled grand jury session Wednesday and planned to hear testimony on other matters Thursday, according to a person familiar with the matter. But law enforcement in New York has been making preparations for any unrest, should Trump face charges.
The case revolves around hush money payments during Trump's 2016 presidential campaign to women who alleged sexual encounters with him. Bragg's team appears to be looking at whether Trump or anyone committed crimes in New York state in arranging the payments, or in the way they accounted for them internally at the Trump Organization.
On Thursday, one of the GOP chairmen, Rep. Jim Jordan, R-Ohio, expanded his probe into the handling of the Trump case by demanding testimony and documents from Mark Pomerantz and Carey Dunne, two former Manhattan prosecutors who had been leading the Trump case before quitting last year in a clash over the direction of the probe.
"Last year, you resigned from the office over Bragg's initial reluctance to move forward with charges, shaming Bragg in your resignation letter — which was subsequently leaked — into bringing charges," Jordan, an Ohio Republican, wrote in the letter to Pomerantz late Wednesday. "It now appears that your efforts to shame Bragg have worked as he is reportedly resurrecting a so-called 'zombie' case against President Trump using a tenuous and untested legal theory."
Requests for comment from Pomerantz and Dunne were not returned.
___
Associated Press writer Michael R. Sisak in New York contributed to this report.
Copyright 2023 The Associated Press. All rights reserved.