Sarasota on Top 10 list for allergy problems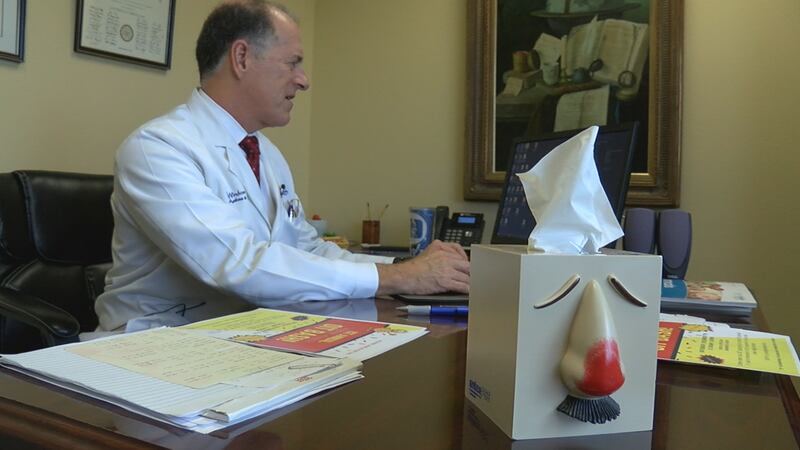 Published: Mar. 22, 2023 at 9:56 AM EDT
SARASOTA, Fla. (WWSB) - It may be news to some, but not to many on the Suncoast -- Sarasota is one of the worst cities in the U.S. for allergy sufferers, according to a new study.
The Asthma and Allergy Foundation of America has published a list of the top 10 "Allergy Capitals" and Sarasota is No. 6, followed by Cape Coral and No. 7 and Orlando at No. 8
Wichita, Kansas, was No. 1 on the foundation's list, which was determined by isolating specific allergy types, residents' allergy medicine use and availability of allergy specialists from the 100-most populated Metropolitan Statistical Areas in the U.S.
According to the study, Sarasota has worse-than-average scores for all pollen and allergy medicine use, and has an average number of board-certified allergists/immunologists.
The Top 10:
Wichita, Kansas

Dallas, Texas

Scranton, Pennsylvania

Oklahoma City, Oklahoma

Tulsa, Oklahoma

Sarasota, Florida

Cape Coral, Florida

Orlando, Florida

Des Moines, Iowa

Greenville, South Carolina
In individual categories, Sarasota ranked third in the U.S. for tree pollen, behind Wichita and Dallas; ninth for grass pollen; and 16th for weed pollen.
More than 100 million Americans live with various types of allergies every year, the Foundation says on its website.
The 2023 Allergy Capitals report also outlined the increasing threat of climate change on people with allergies and asthma.
"The science clearly shows that communities across the nation are seeing the health impacts of climate change, causing a public health emergency," the report says. Climate change is creating more ground-level ozone, longer and stronger pollen seasons and worsening of urban heat islands, it said.
"If we don't slow down the cycle, pollen production and air pollution will only get worse. Millions of people already have seasonal allergic rhinitis, and pollen allergies are a major cause. If this cycle continues, we may see the number of people with seasonal allergies increase."
Copyright 2023 WWSB. All rights reserved.