Workers dismantle Florida ride where teen fell to his death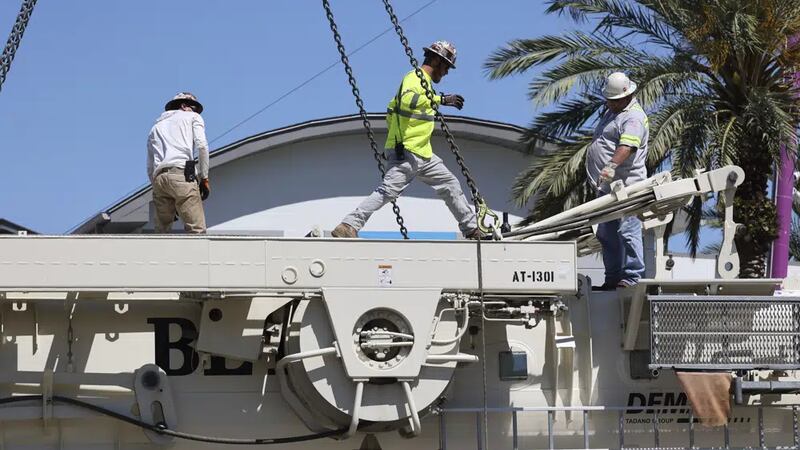 Published: Mar. 16, 2023 at 7:58 AM EDT
ORLANDO, Fla. (AP) — Almost a year after a Missouri teen fell to his death, a 400-foot amusement ride was being dismantled this week in central Florida's tourism corridor.
A gigantic crane hovered Wednesday beside the towering ride in Orlando's International Drive tourism district where 14-year-old Tyre Sampson fell in March 2022. A fence encircled the ride and blocked off parts of the nearby sidewalk and road. The ride's dismantling was expected to take several days.
Sampson, who lived in the St. Louis area, was visiting Orlando during spring break when he died from the fall.
An autopsy showed that Sampson suffered numerous broken bones and internal injuries in the fall, which was ruled an accidental death. It showed Sampson weighed 383 pounds, well above the ride manual's weight limit of 287 pounds.
An initial report by outside engineers hired by the Florida Department of Agriculture said sensors on the ride had been adjusted manually to double the size of the opening for restraints on two seats, resulting in the teen not being properly secured. The report said there were many other "potential contributions" to the accident.
Sampson's family had filed a lawsuit against the owner, manufacturer and landlord of the ride, claiming they were negligent and failed to provide a safe amusement ride. An attorney for the family said Wednesday that they had reached a settlement with the owner but didn't provide details.
Legislation is pending in the Florida Legislature aimed at preventing similar accidents. The Tyre Sampson Act would prevent Florida's smaller attractions operators from making unauthorized adjustments to a ride's restraint systems and require operators to submit more detailed safety and operational documentation to the state.
The teen's mother, Nekia Dodd, had been advocating for the ride to be dismantled and visited the site on International Drive on Wednesday, saying she was happy no other family will have to go through what hers has.
"It won't happen again, and I'm glad for that," Dodd said. "I'm all over the place with emotions."
Copyright 2023 WWSB. All rights reserved.