All Faiths Food Bank announces new strategic plan to fight food insecurity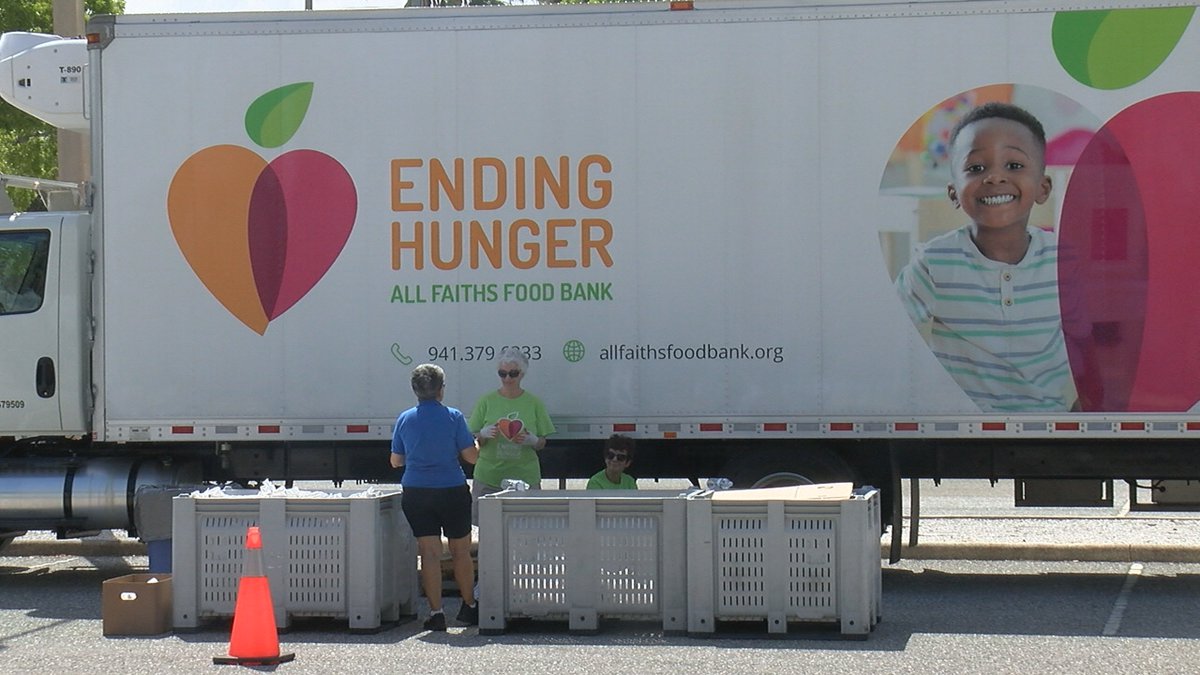 Published: Mar. 14, 2023 at 4:57 PM EDT
SARASOTA, Fla. (WWSB) - All Faiths Food Bank is rolling out a new organizational plan to improve impact and distribution of food in the area by approaching issues that cause food insecurity.
All Faiths Food Bank has been dealing with the crises of the past few years, such as COVID, rising food and housing costs, and devastating storms.
Last year, All Faiths Food Bank sourced, managed, and distributed food to provide more than 18 million meals, but the growing numbers and stories from the front lines told us that more had to be done. Unless the deeper issues that lead to food insecurity are addressed, the goal of ending hunger cannot be achieved.All Faiths Food Bank has launched a progressive new strategic plan that provides bold new ideas, approaches, and partnerships to address not just food insecurity but its systemic, root-level causes.
Food insecurity is complex, always shifting, and not bound by time. The best way to understand its complexities and root causes is by learning from people who are directly affected. At the core of this five-year strategic plan is centering our neighbors' experience and ensuring that everyone in the region understands that hunger is not something that happens to someone else – it is in our neighborhoods, perhaps even right next door.The strategic plan process began in January of 2022 by assembling expert research, conducting an extensive landscape assessment and gathering firsthand community experience – over 100 contributors participated. The strategic plan task force included the AFFB senior leadership team, immediate past chair and strategic plan task force chair Ben Hanan, and task force members Dennis Doughty, Keith Monda, Paul Cantor and current board chair Terri Vitale.
"Staff, board, volunteers, and community stakeholders played an important role in this process, which included an environmental scan, design of four impact goals, testing of our assumptions, and the development of an approach to implementation," said Hanan. "We are grateful for the involvement of the many people who helped us set a compelling agenda for our future and our community's vision to end hunger."There are four goals comprising the new strategic plan:
Advance greater insight into how to meet the unique needs of our neighbors experiencing hunger.

Build a reimagined supply chain that holistically integrates the preferences and nutritional needs of our neighbors and establishes innovative new methods to distribute food.

Position food and wrap-around services as important steps in opening new pathways to financial stability and economic security for our food insecure neighbors.

Invest in deep partnerships to create a region-wide movement that recognizes the role we can all play to end hunger.
"Our new Strategic Plan is a catalyst for change within the food bank and across our region," said AFFB's CEO Sandra Frank. "Our mission to end hunger is at the center of everything we do. The four goals will work in concert to move our purpose forward and invigorate the impact we can create with our partners in Sarasota and DeSoto counties."
Copyright 2023 WWSB. All rights reserved.