Man paralyzed by officer who mistook gun for Taser sues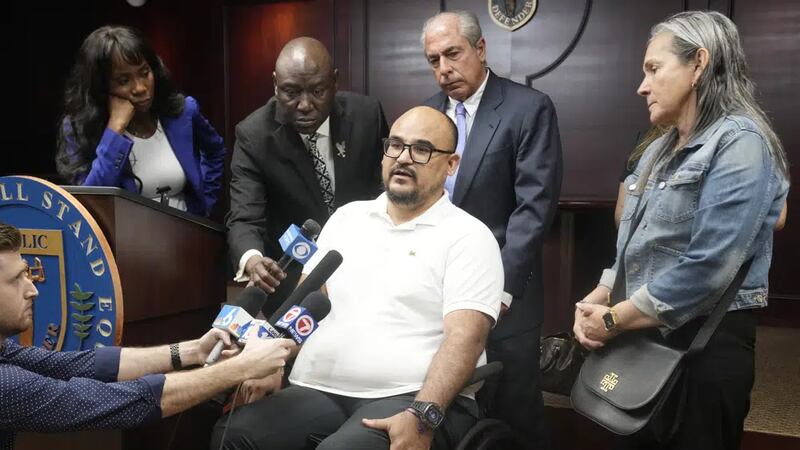 Published: Mar. 2, 2023 at 11:07 AM EST
FORT LAUDERDALE, Fla. (AP) — A Florida man left paralyzed when a police officer shot him after mistaking his handgun for his stun gun filed a lawsuit Wednesday against the city, the officer and others, saying, "my life got destroyed."
Michael Ortiz is seeking unspecified millions of dollars from the city of Hollywood, Florida, and Officer Henry Andrews, 50, who is also facing a misdemeanor charge for the 2021 shooting — one of several over the last 20 years where officers say they mistook their gun for their Taser. The federal civil rights lawsuit also names officers Dionte Roots and Jhonny Jimenez, who were subduing Ortiz when Andrews shot him.
Ortiz, speaking at a press conference, said not only has his own life been destroyed, but so has his mother's as she has to change his diapers and provide other care. He had called 911 for help while suffering from a mental health crisis before he was shot while handcuffed on the ground.
"She is treating me like I am 6 months old," said Ortiz, 43, who is paralyzed from the chest down and uses a wheelchair. He owes $3 million in medical costs and will need lifetime care.
Florida-based civil rights attorney Ben Crump, who is representing Ortiz along with attorney Hunter Shkolnik, said it's an "injustice" that Andrews has been charged with only a misdemeanor.
"Michael Ortiz needed a helping hand and what he got was a bullet to the back," Crump said. Crump represents many victims nationwide of alleged police misconduct, including the families of Michael Brown, Breonna Taylor and George Floyd. "There should have been greater accountability for the officer."
Hollywood officials declined comment. Attorney Jeremy Kroll, who represents Andrews in the misdemeanor culpable negligence case, said another lawyer will be hired to represent the officer in the lawsuit.
"In responding to a difficult and chaotic situation, Officer Andrews intended to deploy his taser and mistakenly discharged his firearm. There was absolutely no intent to harm in this case. He and his family continue to have Mr. Ortiz in their thoughts and prayers," Kroll said in a statement.
It could not be determined if Roots and Jimenez have attorneys who could comment. They have not been charged criminally.
Copyright 2023 WWSB. All rights reserved.