Manatee Chamber member has cardiac event on Pirates' spring training field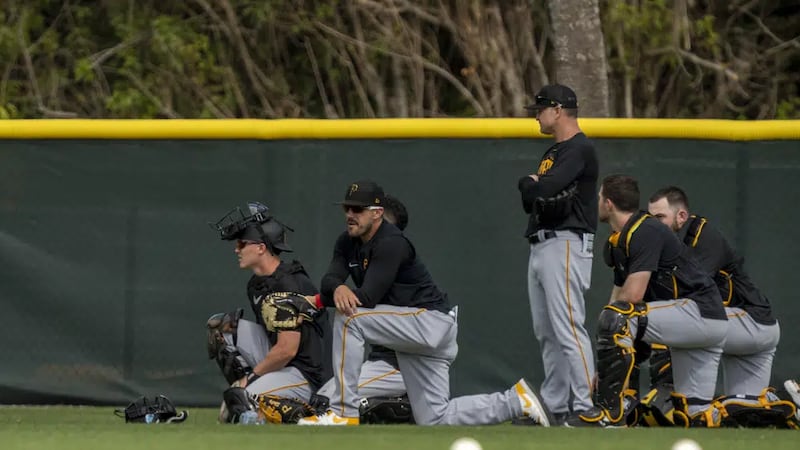 Published: Feb. 22, 2023 at 9:55 AM EST
BRADENTON, Fla. (AP) — A guest of the Pittsburgh Pirates required emergency medical attention after suffering cardiac arrest on Tuesday while fielding fly balls on a practice field.
The Pirates say the guest was shagging balls at the team's spring training complex when he had "a medical event" that required immediate attention and caused practice to stop.
Jacki Dezelski, president and CEO of the Manatee Chamber of Commerce in Bradenton, confirmed the man is a member of her group, which sometimes is invited to attend practices and retrieve balls near the fence during batting practice.
Dezelski said the man suffered cardiac arrest and was alert and talking later Tuesday following a procedure. She declined to identify the man until receiving permission from family members.
"He's doing great, just come out of a procedure," Dezelski told The Associated Press. "His wife is back with him now. He's alert and talking as he was in the ambulance. He was fully alert. ... I guess in some ways, outside of a hospital, he was in the best place he could be to have this happen because he received such immediate medical attention."
Pirates manager Derek Shelton praised the response of medical staff at the facility.
"They did an unbelievable job," Shelton told reporters. "... Our whole medical staff really jumped into action very quickly. We're really fortunate we have that group of people in a scary incident they were on top of right away."
The Pirates' workouts were delayed about an hour.
According to observers, Pirates players, coaches and staff members stood in the outfield while the man received medical attention. Kevin Gorman of the Pittsburgh-Tribune Review tweeted that the players, coaches and staffers "politely clapped" as the man was taken off the field on a stretcher.
Copyright 2023 WWSB. All rights reserved.