Law enforcement continues search for Parrish Community High School suspect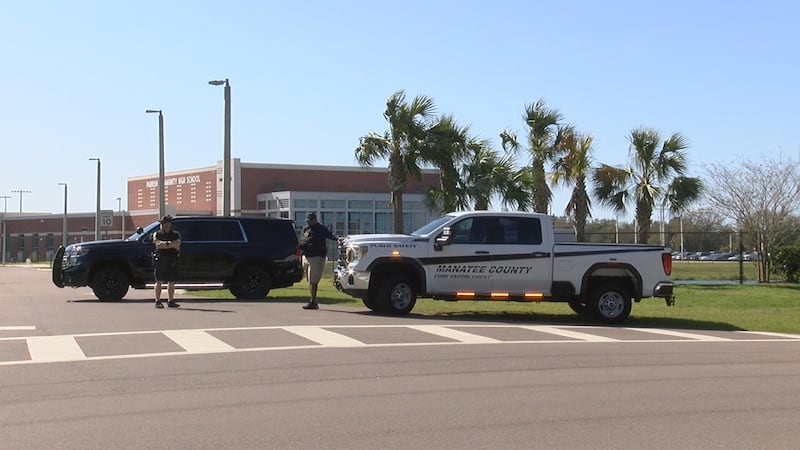 Published: Feb. 8, 2023 at 9:00 PM EST
SARASOTA, Fla. (WWSB) - The Manatee County Sheriff's Office is enlisting the help of the F.B.I. to track down the person, or people, responsible for making false threats to Parrish Community High School.
Since last Wednesday, the school has received multiple bomb threats which were unfounded.
According to Sheriff Rick Wells, the digital fraudster has been making the threats using a virtual private network (V.P.N.) hosted in Romania on the FortifyFL App. Some online criminals will use a V.P.N. to add an extra barrier of anonymity which makes them harder to catch.
Alec Tan is a student at Parrish Community High School who said he's tired of the threats which continue to impede his time in school.
"I was just in my 2nd-period history class when I got a text from my friend saying that we might be going to the football field or something like that," said Tran.
It was supposed to be a regular Tuesday morning for students like Tran. But instead, it turned into yet another day filled with questions and concern for his well-being.
This was after a fourth bomb threat was submitted to the school. According to Tran, the anonymity of the app coupled with the barrier of the VPN is scary.
"Anyone can report I guess? Anyone can just say anything," he said.
But, according to the CEO of Aegis Business Technologies Blake Dowling, it doesn't mean the wrong doers are totally invincible.
"It's peeling the onion. It's doing the detective work and looking for people to leave a trail. Just like real crime, digital crimes leave evidence. Law enforcement chases those down everywhere they can," said Dowling.
Dowling added, with the large increase in internet crimes, many companies who own V.P.N.'s have begun partnering with law enforcement to help catch online criminals.
According to Manatee County Sheriff's Office Public Information Officer Randy Warren, the Sheriff and his team won't stop until the digital criminal is caught.
"We got to get that message out there to the rest of the students, or anybody else out there—stop it! You're going to face the consequences," said Warren.
Warren said the punishment for each threat is a second-degree felony which will follow the person for the rest of their life.
Copyright 2023 WWSB. All rights reserved.