Defending Stanley Cup champion Lightning back in East finals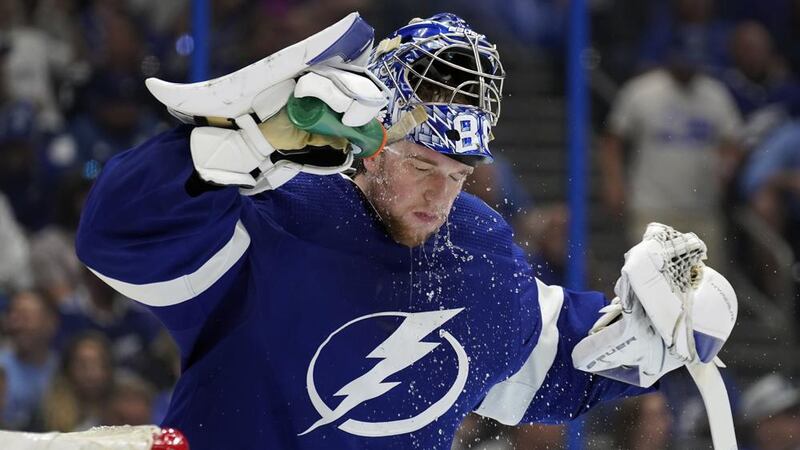 Published: May. 24, 2022 at 9:30 AM EDT
TAMPA, Fla. (AP) — Jon Cooper had every reason to be confident the two-time defendin Stanley Cup champion Tampa Bay Lightning could keep their bid for a three-peat alive.
"Our story is not finished being written," the coach said earlier this month with his team on the brink of elimination in the first round against the Toronto Maple Leafs. "We've got a lot left in us, we feel."
Andrei Vasilevskiy is one of reasons.
The reigning Conn Smythe Trophy winner has won six straight games since the Lightning fell behind the Maple Leafs 3-2 in their opening round series, including a Game 7 gem in Toronto and a four-game sweep of the Florida Panthers in the Eastern Conference semifinals.
Up next is Tampa Bay's sixth trip to the East finals in eight years, where they'll face either the Carolina Hurricanes or New York Rangers.
"We've found a recipe that has obviously allowed us to go deep into the playoffs, and especially in the last 2 1/2 years now, and we want to keep it up," captain Steven Stamkos said after Monday night's 2-0 victory over Florida gave the Lightning its first sweep of a playoff series in 11 years.
"It's the most fun and gut-wrenching and nerve-wracking time of the year, but that's just an amazing feeling," Stamkos added. "You can't really describe it unless you go through it, and this group has certainly been through it."
Copyright 2022 The Associated Press. All rights reserved.