Coffee shop hires people with intellectual, developmental disabilities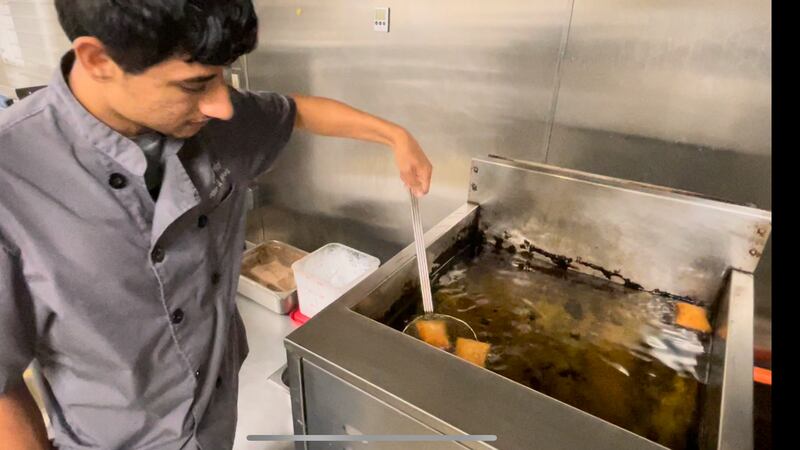 Published: Mar. 18, 2022 at 9:01 AM EDT
SARASOTA, Fla. (WWSB) - Nothing beats a perfect brew in the morning.
When you work early mornings, a daily dose of caffeine is almost a requirement. Rise and Nye's coffee and ice cream shop in downtown Sarasota teaches employees with intellectual and developmental disabilities skills that go beyond making the best latte.
Beaver Shriver and Christian Nye own the shop. "We have people coming in here who learn how to use our coffee machine, run the register, build ice cream sandwiches, and work in the kitchen," Shriver said. "They can do those same jobs at any position anywhere."
Nye manufactures ice cream for the shop. "My wife had always said God has a bigger purpose for it," Nye said. "We prayed for a year about it and were led to take our ice cream company to turn it into a nonprofit."
The nonprofit's mission is to hire people with intellectual and developmental disabilities. "We have excluded this population for many years," Beaver said.
In Florida 1,345,230 people aged 18 to 64 live with disabilities. Right now 473,940 of them have jobs. That's just 35.2%.
Of those without disabilities under the same age group, almost 75% are employed, data from the Annual Disability Compendium indicates.
"Given the past few years of COVID-19 and all the struggles that businesses have faced, this really is a great example of how we can see or demonstrate equity in the workplace," said Evangeline Hawthorne, director of the Equal Employment Opportunity Commission field office in Tampa.
She said it's important for businesses, like Rise and Nye, to make a conscious effort to employ people with disabilities during a time in the job market where not enough staff showing up to work.
"I was an executive chef for the last 25 years in the corporate world in hotels, resorts, and that was my calling. But, I think (the pandemic) has allowed people to really dig deep and find something they are passionate about. They don't have to sit behind a desk," said Nye.
Copyright 2022 WWSB. All rights reserved.