High and dry for a while then scattered storms possible
Hurricane season less than a week away
Published: May. 26, 2021 at 8:11 PM EDT
SARASOTA, Fla. (WWSB) - The summer thunderstorm pattern will show itself a little this Memorial day weekend. The main focus will be mainly inland showers and storms on Sunday into Monday. The high pressure ridge which has been keeping us dry will get bumped to the SE of Florida and switch our winds around to more of a westerly direction through Sunday.
This shift in wind will bring the humidity back up with along with a very small chance for a few showers on Saturday with a 20% chance for rain and then a 30% chance on Sunday. Monday due to the presence of a cold front to our north this will cause some instability in the atmosphere which will bring the rain chance up to 40% for some mainly late day storms.
Thursday we can expect mostly sunny skies in the morning followed by partly cloudy skies in the afternoon with a high around 90 inland and 87 at the beaches. Winds will be light in the morning at 5 mph turning to the west by early afternoon and picking up to 10-15 mph.
Friday look for those winds to be out of the west at 5 to 10 mph bringing the humidity up bit and making it feel a little more uncomfortable during the afternoon but nothing too extreme.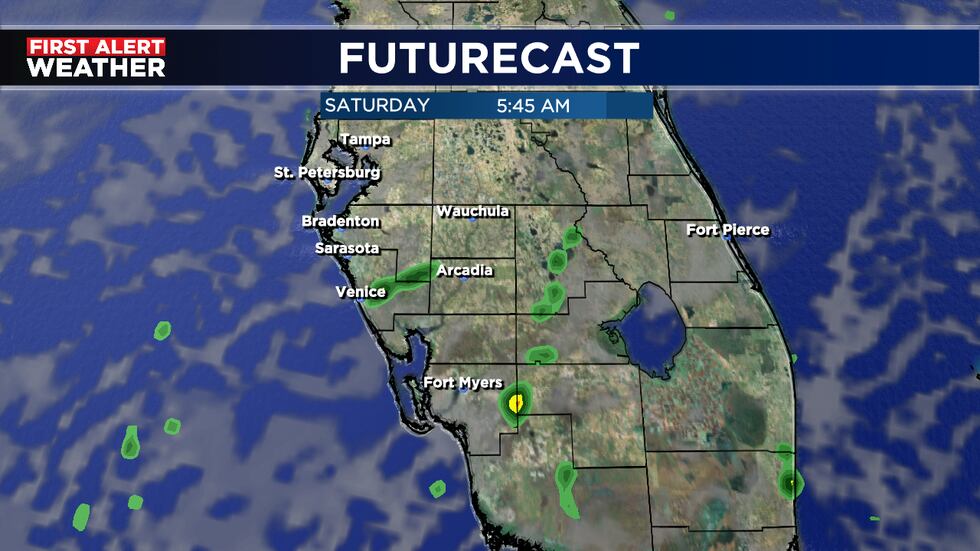 Saturday looks a lot like Friday with only a 20% chance for a scattered shower or two and a high in the upper 80′s.
Sunday calls for partly cloudy skies with a slight chance for late day showers and a high in the upper 80′s.
Memorial day expect partly cloudy skies and a 40% chance for a few showers and isolated thunderstorm mainly in the afternoon and early evening.
Just a reminder to everyone that hurricane season begins on Tuesday June 1st. Make sure you have your hurricane supplies ready and you have a plan. Please be sure to watch "In the Eye of the Storm" on ABC 7 WWSB beginning at 7 p.m. on Tuesday. This is a survival guide for dealing with tropical cyclones.
Copyright 2021 WWSB. All rights reserved.