Ag commissioner rips DeSantis over election bill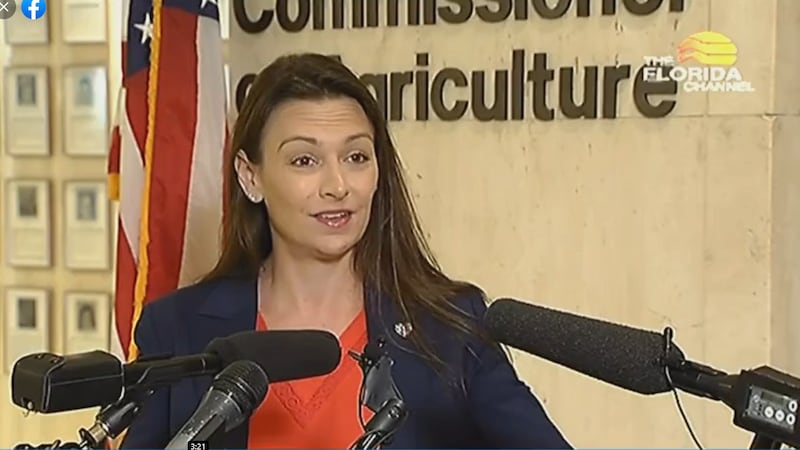 Published: May. 6, 2021 at 12:32 PM EDT
TALLAHASSEE, Fla. (WWSB) - Florida Agriculture Commissioner Nikki Fried railed against Gov. Ron DeSantis Thursday morning over his signing of a controversial election reform law.
Fried, a Democrat who is widely expected to run against DeSantis for governor next year, called DeSantis a "authoritarian dictator" and described his administration as "borderline fascism."
DeSantis signed Senate Bill 90 yesterday in front of live Fox News cameras. The bill was touted as a measure to bolster election security and reduce the chance of future voter fraud.
The bill limits the use of drop boxes during early voting periods by restricting their placement at early voting sites and permanent elections offices, so long as the boxes are staffed by their employees. The bill will also require voters to request mail-in ballots more frequently than before.
The bill effectively bans organizations and volunteers from collecting completed vote-by-mail ballots for delivery to drop boxes, and will ban any non-poll worker from giving food or drink, including water, to voters waiting in line.
"We are no longer a free state," Fried said outside her office in Tallahassee. "This governor has infringed upon our rights once again," she said.
Fried argued that the 2020 election was the most secure election in Florida's history and that the legislation was simply not needed. "It's trying to fix a problem that doesn't exist. It's all about voter suppression," she said.
Democrats and many voting-rights groups said the bill would suppress voting after a November election in which many more Democrats voted by mail than Republicans amid the COVID-19 pandemic.
Fried plans to file an amicus brief in connection with a lawsuit filed today by the League of Women Voters of Florida. That suit claims the new law will have deliberate and disproportionate impact on elderly voters, voters with disabilities, students and communities of color.
Fried also said she is also looking into the possibility of joining the suit as a plaintiff. "We're looking into all options," she said.
Defendants in the suit include Florida's Secretary of State Laurel Lee, Florida Attorney General Ashley Moody, as well as every county's supervisor of election, including Ron Turner in Sarasota County and Michael Bennett in Manatee County.
At the same time, the Florida State Conference of the NAACP, Disability Rights Florida and Common Cause filed a separate federal lawsuit alleging that bill is unconstitutional and violates the Americans with Disabilities Act.
Copyright 2021 WWSB. All rights reserved.