Injection well a viable way to deal with Piney Point waste, DEP says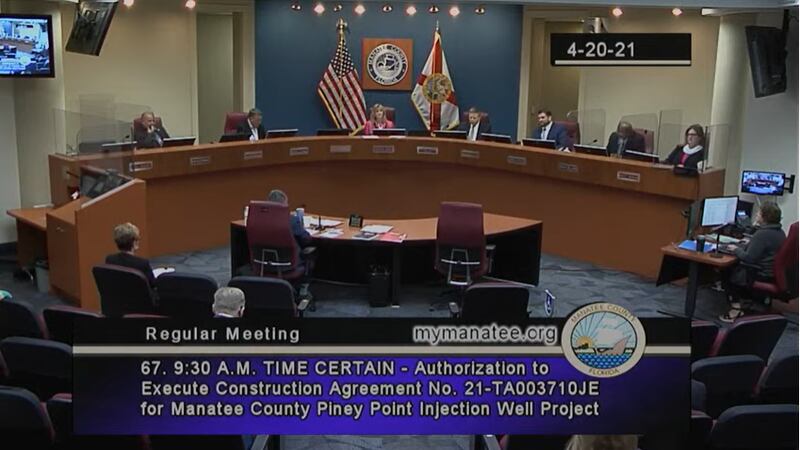 Updated: Apr. 29, 2021 at 2:59 PM EDT
SARASOTA, Fla. (WWSB) - As the cleanup of the troubled former Piney Point phosphate processing plant progresses, the problem remains -- What do you do with the millions of gallons of potentially toxic wastewater sitting in phosphogypsum stacks?
The Manatee County Commission on April 22 approved hiring Youngquist Brothers Inc. of Fort Myers to drill an injection well, to pump the wastewater thousands of feet below ground. The contract states the well must be completed with 330 days and cost no more than $9.35 million.
There are approximately 800 Class I injection wells in the United States, mostly in the Gulf Coast and Great Lakes areas. Of those, more than 180 are operating in Florida, according to the state's Department of Environmental Protection.
Anatomy of an injection well
Class I wells deal with hazardous materials, including fertilizers and acids. Other classes, the DEP says, include:
Class II oil and gas-related injection wells;

Class III solution mining wells that inject fluids for extraction of minerals (None in Florida);

Class IV shallow hazardous and radioactive waste injection wells (Banned in Florida);

Class V wells that inject non-hazardous fluids into or above underground sources of drinking water. Common types of Class V wells include air conditioning return flow wells, swimming pool drainage wells, and stormwater drainage wells. (There are more than 13,000 Class V wells in Florida);

Class VI geologic sequestration wells.
A Class I injection well is used to inject hazardous, nonhazardous waste or municipal waste below the lowest underground source of drinking water. The DEP says well construction is based on the type and depth of the fluid injected. These wells are designed to provide multiple layers of protective casing and cement.
Class I injection wells are monitored to ensure any waste does not reach other water sources. Testing is conducted on all Class I injection wells at a minimum of every five years to determine that the well structure has integrity, according the DEP website.
The Environmental Protection Agency says injection zones typically range from 1,700 to more than 10,000 feet in depth. Every Class I well permit is valid for up to 10 years.
There are significant restrictions on the disposal of hazardous waste. Wastewater, for example, must be pretreated before it can go underground, unless it can be demonstrated that the waste will remain where it has been placed for as long as it remains hazardous, which has been defined as 10,000 years by regulation.
Environmental concerns
The theory behind injection wells is that the potentially hazardous waste is separated from an aquafer by multiple layers of rock. If one layer leaks, the next layer keeps waste from spreading before it reaches groundwater.
The problem, critics say, is that in reality, geologic formations are never as neat as they usually appear in sketches. A ProPublica report on injection wells which pointed out that rock layers aren't always neatly stacked as they appear in engineers' sketches. They often fold and twist, making leakage more likely.
The DEP says risk is minimal. "At locations where hydrogeologic conditions are suitable and where other disposal methods are not possible or may cause contamination, subsurface injection ... is considered a viable and lawful disposal method," it's website says. "There are favorable hydrogeologic conditions in Florida where the underground formations have the natural ability to accept and confine the waste."

Copyright 2021 WWSB. All rights reserved.