Bright Futures scholarship bill heads to committee
Hearing set for 12:30 p.m. in Tallahassee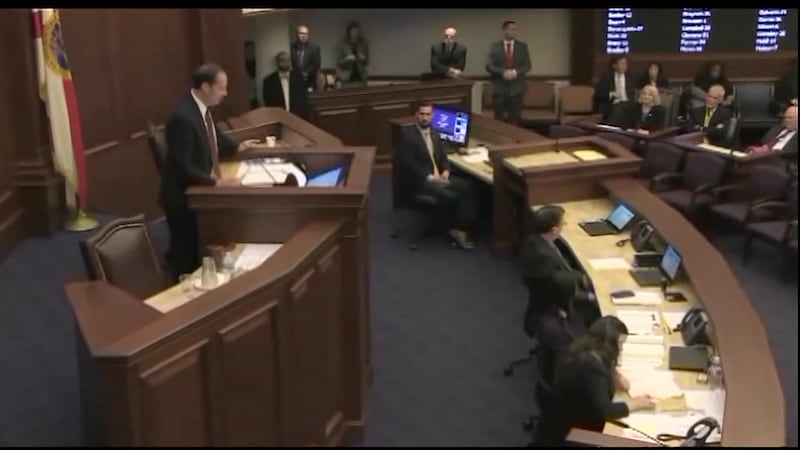 Published: Mar. 16, 2021 at 11:16 AM EDT
TALLAHASSEE, Fla. (WWSB) - A controversial piece of legislation that could affect thousands of college students in Florida is getting its first reading in committee Tuesday afternoon.
The Senate Education Committee will consider Senate Bill 86, which would make fundamental changes to the popular merit-based Bright Futures scholarship program.
Currently, a high school graduate with good grades and college entrance test scores can have up to 100 percent of Florida college tuition and fees paid for by Bright Futures.
If the bill, as originally written, becomes law, only students who major in subjects on a preapproved list would be eligible for 100 percent funding. It would also decrease support for students who earn college credits in high school through dual enrollment programs or advanced placement classes.
After hearing a large amount of feedback, the bill's author, state Sen. Dennis Baxley, R-Ocala, offered some amendments to his proposal Monday afternoon, even though the overall effect of the bill appears to remain the same.
His amendments would reverse the focus of the list of majors that the state Board of Education would be tasked to produce. Instead of a list of majors deemed acceptable to be eligible for scholarship funds, the list would be of majors that would not be funded.
Baxley also added a requirement that the Board of Governors, who oversee college and universities in the State University System, publish data by March 1, 2022, with information including academic disciplines of graduates; post-graduation median salary one, five and 10 years after graduation; median student loan debt and payment information; and the percentage of graduates who have continued their education beyond the baccalaureate level.
Baxley also added language that would require all undergraduates to participate in career counseling; to register with their school's career center; complete career readiness training; and to have access to the Board of Governor's report. Failure to comply would put a hold on a student's registration after the first year.
Baxley says his bill is an attempt to encourage students to focus on getting a job after graduation. "What's happening is, we wind up with a number of people who graduate from university ... and they're not employable for anything," he told ABC7 last week.
Students that ABC7 talked to disagree with Baxley's assessment. Sofia Lombardi is a second-year political science student at New College of Florida in Sarasota. In her role as president of the New College Student Association, she'll be in Tallahassee Tuesday, speaking to the committee in opposition to the bill.
She says the bill is short-sighted, arguing inevitable changes in the job market would make the plan untenable. "Trying to pin down what's employable is going to lead to overtraining for a very narrow set of job fields that could fall through two decades from now, once a job is automated, or the field changes," she said.
"Students should be able to choose a major based on their interests, not what they can afford," Lombardi told ABC7. "It's trying to limit students based on what they can afford, in my opinion."
Baxley said that's not what the bill is attempting to do. "We're not trying to eliminate people; we're trying to make their education relevant to a career path," he said.
Baxley used an example: "You may just want to study art. But with a little different course mixture, you could qualify to be an art teacher.
"We're not trying to take away peoples' benefit. But we also want to incentivize thinking, as you go through this educational process, 'How am I actually going to make a living when this is all over?'"
Lombardi says that philosophy of education is a huge concern for New College, the only liberal arts institution in the state university system. "We don't have majors, we have areas of concentration. Every single degree, whether you study math or anthropology, is a liberal arts degree, with a concentration in your major," she explained.
"Students are really concerned about what this would mean for New College. Every degree would be grouped under 'unemployable.' You can't really know what's going to be employable and what's not going to be employable. I think the adaptability of what a liberal arts degree brings to students is really critical to advancing Florida as a society."
A 'WORK IN PROGRESS'
The Education Committee Tuesday will also review two other sets of amendments to the bill that have been filed in the past week.
State Sen. Perry Thurston, D-Fort Lauderdale, has proposed removing the two most controversial parts of the bill -- creating a list of acceptable majors and reducing scholarships for advanced placement courses.
Sen. Tina Scott Polsky, D-Boca Raton, has offered language to include the ability for students to appeal a ruling if their chosen field of study was not deemed acceptable for funding. Any appeal would have to show, "that the student's chosen program would help the student attain a career in the future."
Baxley admitted he doesn't know what the final bill will look like. "Try to be patient and understand this is a process," he said. "We're not at the end. Our objective is to bring the world of work and the world of school closer together, to make it easier for you. But getting there not having a career path, and a pile of debt, is not a bright future."
The Senate Education Committee will meet Tuesday from 12:30-3 p.m., in the Pat Thomas Committee Room, 412 Knott Building. The meeting will be livestreamed here.
Copyright 2021 WWSB. All rights reserved.