First Alert Weather: Friday, November 27, 2020 - Strongest cold front of the season arrives on Monday bringing numerous showers & storms to the Suncoast
Lows in the 40s on Wednesday morning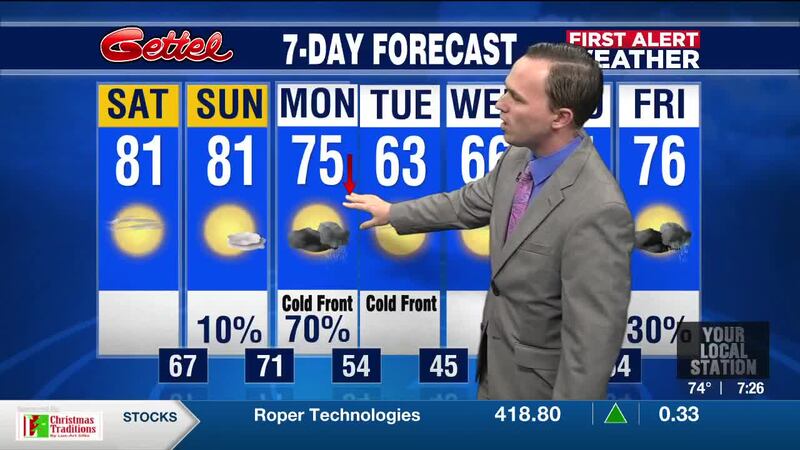 Published: Nov. 27, 2020 at 7:38 PM EST
SARASOTA, Fla. (WWSB) -
For tonight, expect a mostly clear and calm evening with overnight lows falling into the mid-60s. Winds will be light out of the northwest at 5 mph. Some patchy fog could develop over interior locations after midnight.
For Saturday, expect lots of sunshine and with afternoon highs topping out in the low-80s. Winds will remain light and will be out of the west at 5-10 mph. It should be a pleasant evening to enjoy dinner outdoors.
Extended Forecast
A strong cold front will usher in the coldest weather of the season on Monday. This front will bring numerous showers and thunderstorms to the area through Monday afternoon. Isolated strong storms cannot be ruled out along and ahead of the front. Models suggest the rain totals range anywhere from 0.25-0.50′' with higher rain totals for areas that see any thunderstorm activity. High temperatures will top out in the low-to-mid 70s early Monday with temperatures gradually falling behind the front. Highs will top out in the low-to-mid 60s both Tuesday and Wednesday. Plus, temperatures will start out in the 40s on Wednesday.
Beach & Boating Forecast
Seas will be less than 2-feet with smooth conditions on bay and inland waters. The UV index will be at a 5, which is in the moderate range. Winds will be light out of the east and shifting to the northwest at 5 kts during the afternoon.
Copyright 2020 WWSB. All rights reserved.