Eta makes 3rd landfall late Sunday night and tropical storm force winds extend more than 300 miles from the center
Squalls from Eta to move across the Suncoast for a couple of days
Updated: Nov. 9, 2020 at 1:16 AM EST
SARASOTA, Fla. (WWSB) -
Tropical Storm Eta has maintained its strength with maximum sustained winds of 65 mph with higher wind gusts. It is moving west-northwest at 14 mph with a pressure of 992 mb. The next advisory along with the latest track will come at 4:00 am.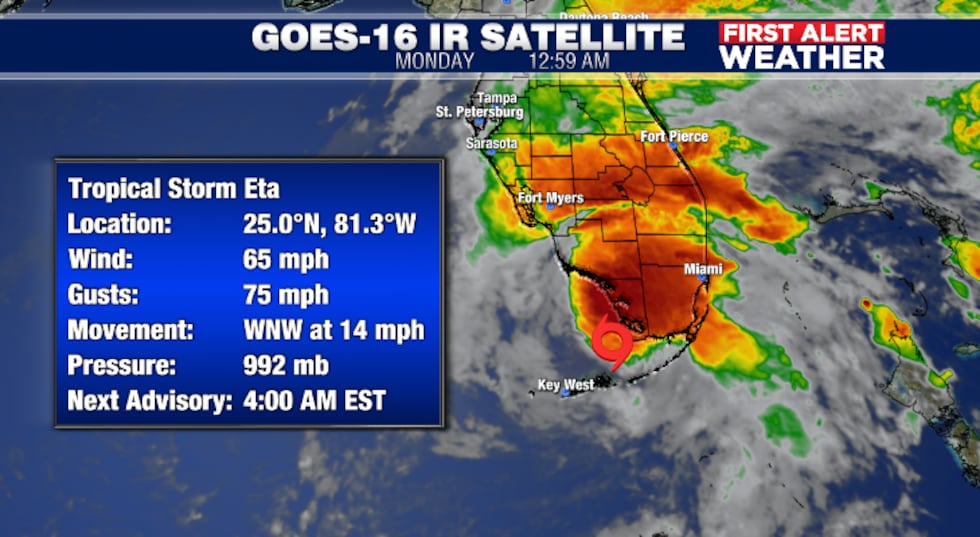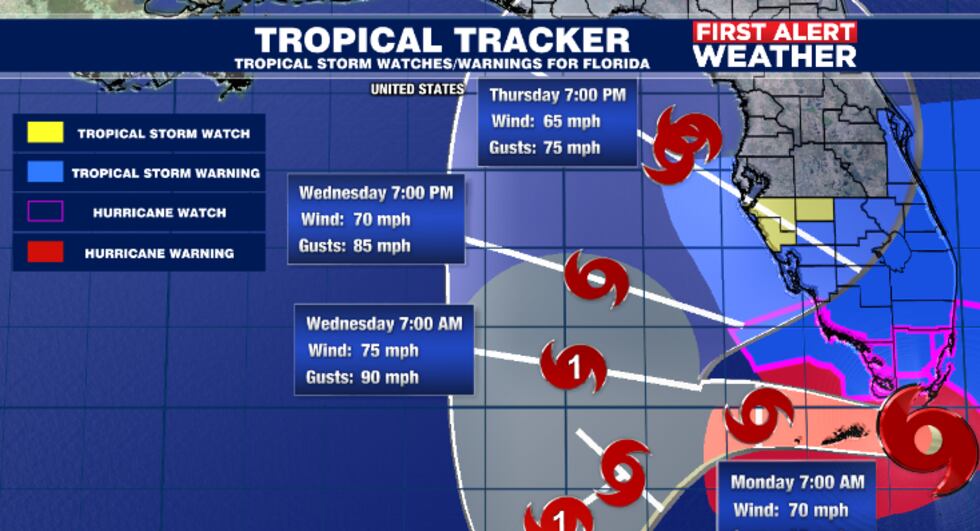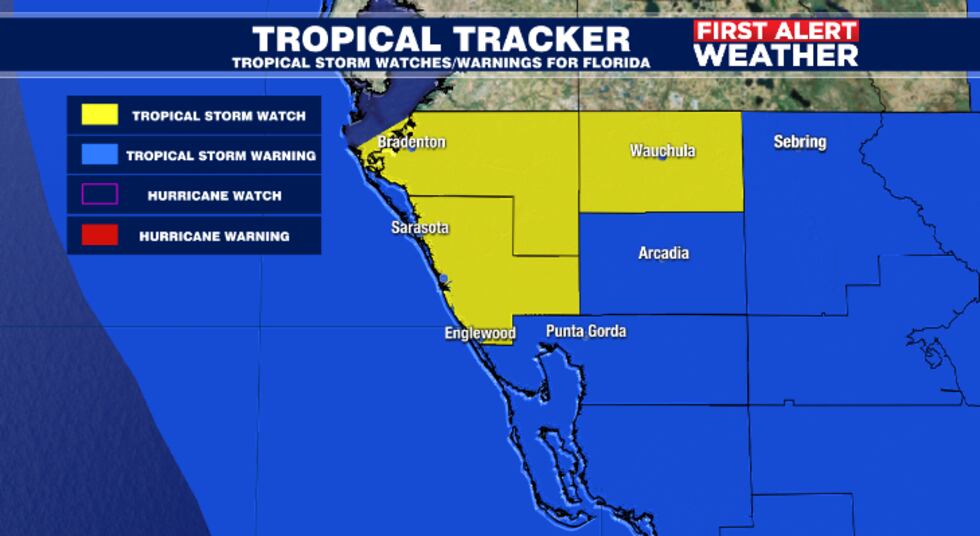 School Closures as of 1:00 am Monday, November 9th
• Sarasota County Schools will be closed Monday, November 9th
Tropical Storm Watches
• Manatee County
• Sarasota County
• Hardee County
Tropical Storm Warnings
• Charlotte County
• Desoto County
• Highlands County
Eta is forecast to move over warmer sea surface temperatures in the southeastern Gulf of Mexico and the vertical shear is forecast to decrease. This is expected to allow for some strengthening and Eta is forecast re-gain hurricane strength by Tuesday. Gradual weakening is predicted in 3-4 days due to increasing southwesterly shear and the entrainment of dry mid-level air.
Squalls from Eta will produce tropical downpours and wind gusts up to 45 mph Monday with Tropical Storm conditions possible once again midweek as Eta begins to slowly lift north-northeast. Models are slowly coming into agreement that Eta will move northeast and closer to the coast by midweek. This will bring additional squalls to the areas with the potential for tropical storm force winds to occur.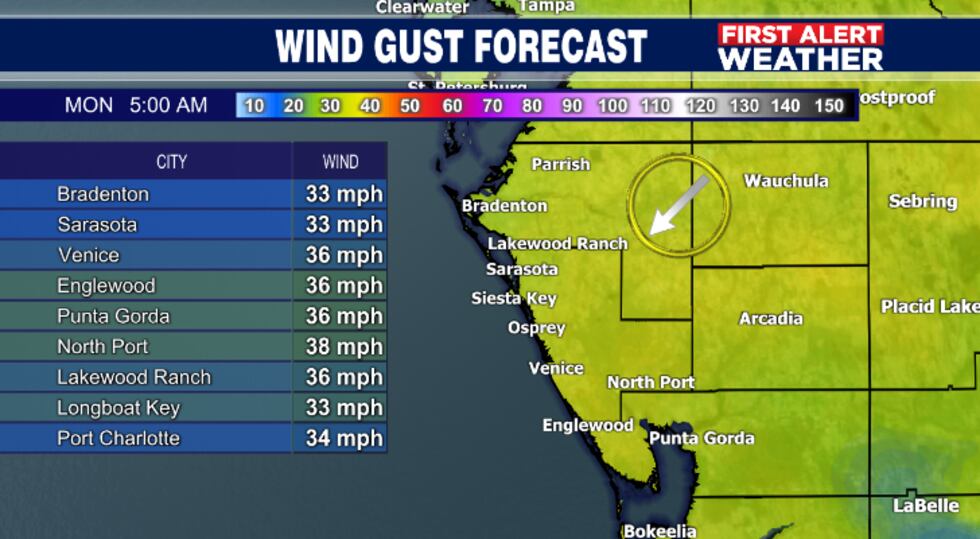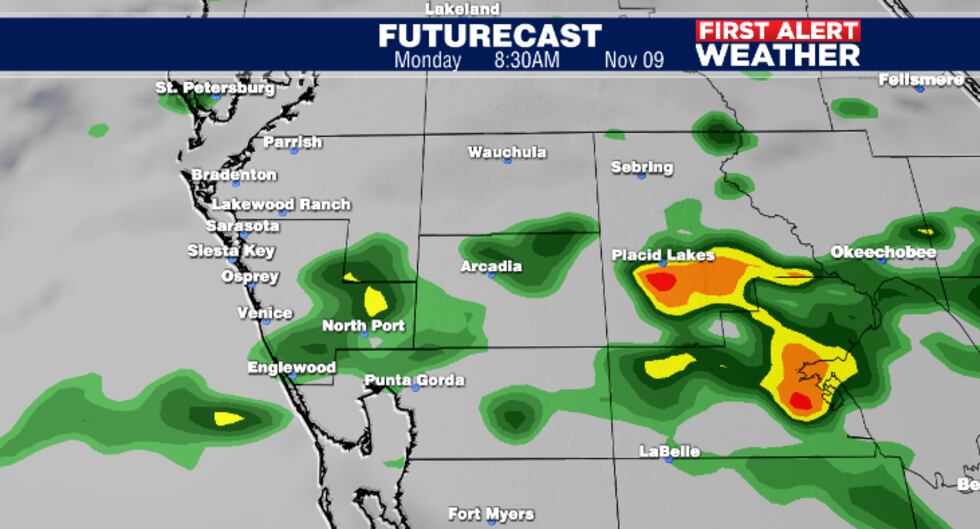 A Flood Watch is currently in effect for Charlotte County through Wednesday.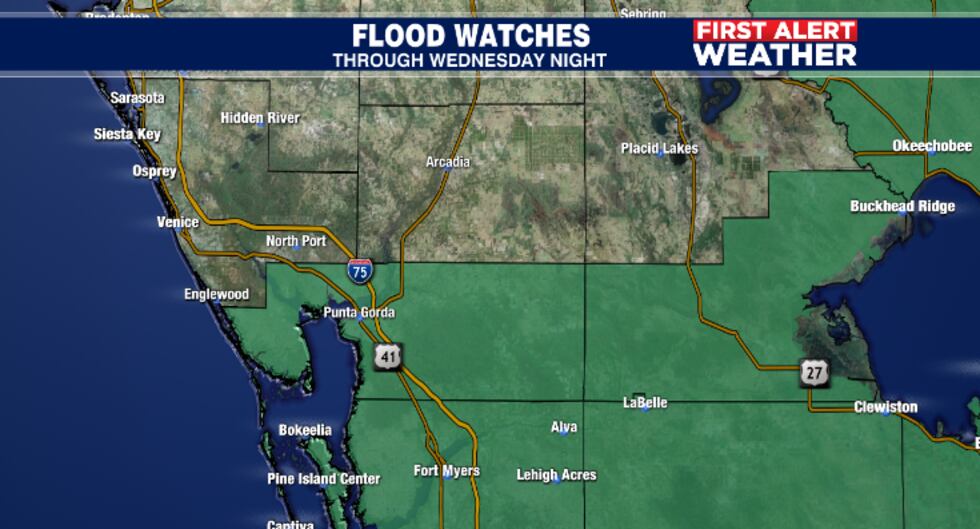 Key Messages
1. Heavy rainfall from Eta will continue across portions of Cuba, Jamaica, the Bahamas, and southern Florida and spread north into central Florida. Life-threatening flash flooding is possible across the urban areas of southeast Florida. Significant, life-threatening flash flooding and river flooding is possible in Cuba, and significant flash and urban flooding are possible for Jamaica, the Bahamas and the remainder of southern Florida, along with potential minor river flooding in central Florida.
2. Hurricane conditions are likely early Monday across portions of the Florida Keys, and are possible across portions of southern Florida. Tropical storm conditions will extend well away from Eta's center across the southern and central portions of the Florida peninsula.
3. There is a danger of life-threatening storm surge in portions of the Florida Keys. Life-threatening storm surge is possible along portions of the southern coast of the Florida peninsula. Residents in these areas should follow any advice given by local officials.
4. Eta is forecast to approach the Florida Gulf Coast later this week as a tropical storm, and could bring impacts from rain, wind, and storm surge. Interests in this area should monitor the progress of Eta and updates to the forecast this week.
Copyright 2020 WWSB. All rights reserved.