Port Manatee container trade surges 54.6 percent in fiscal 2020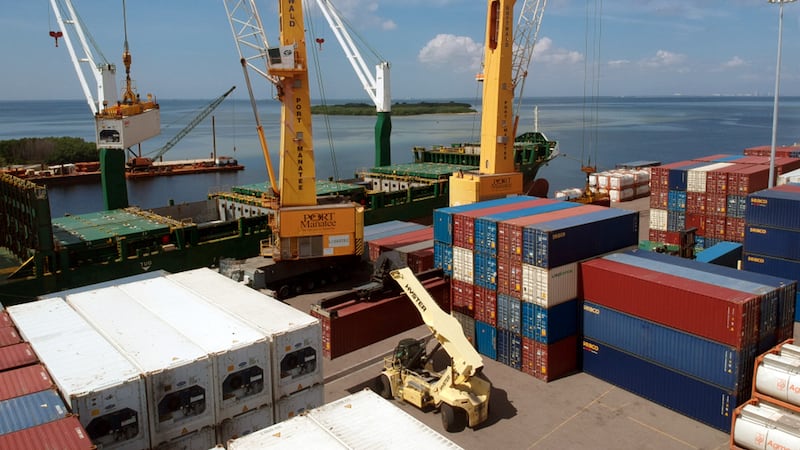 Published: Oct. 13, 2020 at 2:49 PM EDT
PALMETTO, Fla. (WWSB) - Port Manatee's containerized cargo trade continues to swell at a record pace, surging nearly 55 percent, according to figures released today.
The port saw an all-time-high with over 88-thousand container units crossing port Manatee docks versus last year's 55-thousand. Located "where Tampa Bay meets the Gulf of Mexico," Port Manatee is the closest U.S. Deepwater seaport to the expanded Panama Canal.
The port is increasingly fulfilling regional consumer demands for goods ranging from fresh produce to appliances.
The port's container trade success is being driven by the growth of its Port Manatee-based world direct shipping, which has been importing produce and other goods from Mexico since 2014. Businesses like Del Monte Fresh Produce Co. is in its fourth decade of bringing Latin American fruit to the port.
Carlos Buqueras, Port Manatee's executive director says, "as our dockside container yard expansion project advances toward mid-2021 completion, Port Manatee is positioning to continue to efficiently handle rapidly growing cargo volumes."
The container yard expansion project is adding 9.3 acres to the existing 10-acre paved facility adjoining Port Manatee's Berth 12 and 14 docks. The COVID-19 pandemic and related impacts did not slow Port Manatee's container upsurge. The port saw a 24.9 percent rise with 668,672 tons of containerized cargo. Port Manatee's general cargo throughput (the amount of material or items passing through a system or process), was up 9.3 percent, to 531,019 tons due in part to an increase in volumes of lumber and scrap metal.
Priscilla Whisenant Trace, chairwoman of the Manatee County Port Authority, notes "sustained growth of Port Manatee's container trade is a testament to success of our diverse strategy, with key infrastructure investments poised to facilitate even greater cargo activity and deliver still more positive socioeconomic impacts throughout our region."
The self-sustaining port generates more than $3.9 Billion in annual economic impacts while providing for more than 27,000 direct and indirect jobs, all without benefit of local property tax support.
Copyright 2020 WWSB. All rights reserved.